Baking Bread in China: Equipment & Supplies Glossary
You may notice that Taobao is listed as a source for many things, mainly because this website sells almost anything you could possibly want. Many young Chinese people make it their first stop for purchasing everything, and learning how to use Taobao is extremely helpful while living in China.
¤ Oven
¤ Scale
¤ Baking Stone
¤ Linen cloth (couche)
¤ Brotform/Banneton
You can also find some of the above at various baking supplies and equipment stores, especially ovens.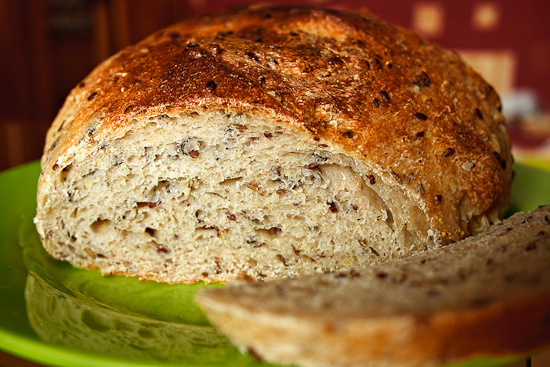 Oven
This is something you've got to have, right? Most expats here have toaster ovens of varying sizes. I've had perfectly good cookies made in toy-sized ovens, but for bread you need something bigger. I inherited mine from a friend (hi, Julia!), so I'm not sure of the exact brand, but it is about 29cm deep and 40cm wide.
Make sure that the oven can go up to 250°C (482° F), because for breads and pizzas you'll want it as hot as possible. Keep in mind that the heat in a toaster oven won't be even: there will be hot spots and cool spots, and the real temperature won't be exact.
In Chinese: 烤箱 kaoxiang. Some ovens come with proofing functions (发酵功能 fajiao gongneng or 醒发功能 xingfa gongneng).
Where to buy:
Big supermarkets such as Carrefour and Wal-Mart carry ovens, though the selection may be limited
The home appliances / kitchen floor of department stores such as Shin Kong Place also stock ovens
Electronics stores like Suning 苏宁, Gome 国美 (Guomei), and (if any still exist) Dazhong 大中 sell ovens as well
The largest selection of ovens can be found on Taobao. Surprise, surprise.
Scale
Essential for making bread, a good electronic scale is quite cheap (around RMB 20-40). Most scales can do either ounces or grams and can weigh up to 5-7kg.
In Chinese: A dianzi cheng 电子秤 or tianping 天平. Be sure to get one that comes with the tare function (去皮 qupi) which allows you to "zero" the weight of the bowl.
Where to buy:
They're not sold in most supermarkets, but you can find them at small-goods markets (小商品市场 xiaoshangpin shichang) such as Sihuan (四环) near Houhai, Donghuanli (东环里, by the Wumei/Wu-mart just outside of Dongsi Shitiao, north side of Gongti Beilu), and perhaps Dongjiao Market (东郊市场) south of Dawang Qiao.

If you want to go old school, you can find balance beams, complete with weights, at larger pharmacies. They're rather costly at RMB 190 and require a large amount of patience and precision. But just think: you'll have a legion of weights at your disposal, exercise your mental math skills, and refine a steady eye-hand coordination – in fact, you'll never feel more like a Qing-dynasty drug dealer.
Baking Stone
I waited for a long time before getting a baking stone, but it's actually quite convenient and easy to find one. You can visit a constructions materials market (建材材料市场 jiancai cailiao shichang) and look for unglazed tiles and stones. If you're lucky, you might be able to find a sample or a discarded piece that they'll let you have for free; otherwise, a stone costs around RMB 20-30. The tricky part is to make sure that they haven't been painted or glazed. I found a nice piece of green marble for RMB 30, but it eventually cracked from the combined stress of heat and moving.
Taobao has a good selection of baking stones, mostly made from cordierite. I purchased this one and am quite happy with it so far. You can search for 烘焙石板 (hongbei shiban).
Linen cloth
A linen cloth makes a fine couche for breads to rest on during their final rise – the fibers help absorb moisture away from the surface of the dough, creating a thicker, crispier crust. The cloth also helps baguettes and batârds keep their shape. Aim for a heavy, stiff fabric of canvas or linen, preferably undyed and untreated.
In Chinese: Linen is 麻布 (mabu); canvas is 帆布 (fanbu). Ask for undyed – 没有染色的 (meiyou ranse de) or all-natural 全天然的 (quan tianran de)
Where to buy: Most fabric stores should carry linen, if not canvas. In Beijing, try Daxin Fabric (大新纺织), on the northeast corner of the Dongsi subway stop on Line 5, at Dongsi Beidajie and Chaoyangmennei Dajie; or Linfuxiang (琳福祥纺织品), on the corner of Andingmennei Dajie and Gulou Dongdajie/Jiaodaokou Dongdjie. I got a ridiculously long strip (about 1.5 meters) for RMB 20 at Linfuxiang.
Brotform/Banneton
These are cane or wicker baskets for the dough to sit in during the final rise; it's especially useful for wetter doughs to keep their shape. The bread usually doesn't directly contact the baskets, which are usually lined with linen cloth or at least dusted with flour, but it's still best to get a basket that has not been dyed or treated with chemical coatings – although I must admit that I bought a random basket from one of those guys who bike around a three-wheeled cart filled with woven baskets. You've seen them, right?
In Chinese: 发酵藤篮 (fajiao tenglan), 发酵筐 (fajiao kuang), or 发酵模 (fajiao mo). Fajiao means "proofing", lan and kuang both mean "basket," while mo means "mold".
Where to buy: I have seen Brotform at the Ziwei Baking Store in Andingmenwai, while there's a small selection on Taobao. Most are around RMB 60-80. Or you could hail down one of those guys with the carts, preferably while you're both biking in the same direction.