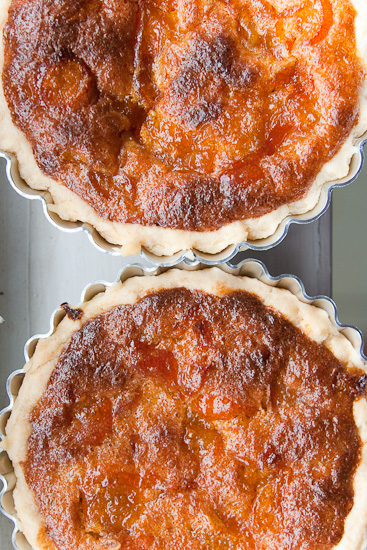 I've grown up eating kumquats all my life, but it hadn't ever occurred to me to do anything with them. They were usually associated with Chinese new year, when my grandparents sometimes had a little kumquat tree, its branches laden with golden fruit. But the success of the hawberry-kumquat pie, as well as a lemon tart that used not one but three whole lemons, led me to reconsider, and so was born this kumquat tart.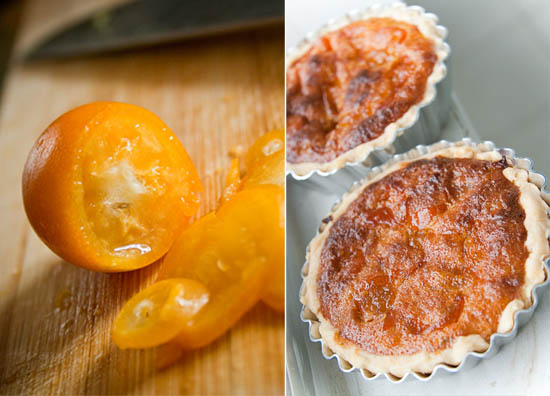 The tarts are sweet and light and just the thing for a small springtime treat. The kumquats are first sliced, then poached in syrup, which makes a nice compote on its own. In the tart, the chunks of fruit and curls of peel tease against the custard filling, a nice complement to the citrus. Another idea is to add spices – ginger, cardamom, star anise, cloves, etc. – to the poaching liquid; perhaps next time.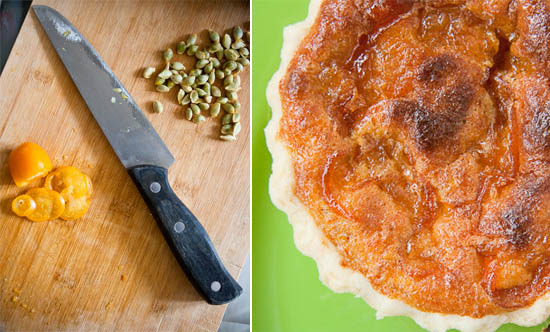 For me, the crust of any tart or pie is as – if not more – important as the filling. (I feel the same way about dumplings too.) This particular recipe may just become my staple: the dough is easy to handle, and the shortening results in a tender, flaky crust.  Not all shortening is created equal, though: my preferred brand is Spectrum, which is trans-fat free and made from sustainably grown palm oil from Colombia (palm plantations results in large-scale clearing of rainforests in Indonesia and Malaysia – orangutan habitat).
Kumquat Tarts

The recipe may look slightly complicated, but I spread it out over weeks, making the kumquat compote in advance and storing it in a sterilized jar in the fridge. I rather eye-balled the quantity of the kumquats, because I'm an eye-baller at heart, and eat the excess (sans eggs) as a nice jam/marmalade of sorts.

Makes four 4-inch tartlets

For the crust:
- 150g all-purpose flour
- 1 tbsp sugar (white)
- pinch salt
- 1 tsp ground ginger, or ½ tsp each of ginger and cardamom – whatever you like
- 56g butter (cold, cut into small pieces)
- 30g shortening (cold, cut into small pieces)
- 4 tbsp ice water (I put a cup of water into the freezer 30min. in advance)

For the filling:
- about 20 kumquats
- 300g sugar
- 300g water
- 1 tsp lemon zest (I used Meyer)
- 3 eggs
- 2 tbsp butter
- 2 tbsp sugar (optional; you might find the kumquats sweet enough already)

The crust: Mix together the flour, sugar, salt, and spices in a medium bowl. Mix in the butter and shortening until the flour is just crumbly. Add the water – I do the final tablespoon in small increments – and mix until the dough holds together. Knead a few times gently, and divide into four (use a scale!). Form into discs, cover with re-usable plastic bags or plastic wrap, and refrigerate for at least 30 minutes. Roll into circles, about ¼ inch thick, and drape into greased tart molds. Refrigerate until ready to use.

The fruit: Wash kumquats – I soak them for at least 12 hours with a little baking soda to remove pesticides. Blanch with boiling water 2-3 times to remove bitterness. Slice thinly (I didn't take out all of the seeds, and I couldn't taste them at all). In a pot, boil sugar and water together to make a syrup, then add kumquats, and cook until soft, about 20 minutes. Strain out excess liquid (this citrus-infused syrup can be saved for something else).

The assembly: Melt the butter, and let cool slightly. Beat the eggs, and add in the kumquats, sugar, melted butter, and lemon zest. Spoon into tart shells. Bake at 200°C (400°F) until the top is golden-brown and caramelized, about 25 minutes, then bake at 175°C (350°F) for 15-20 minutes more.