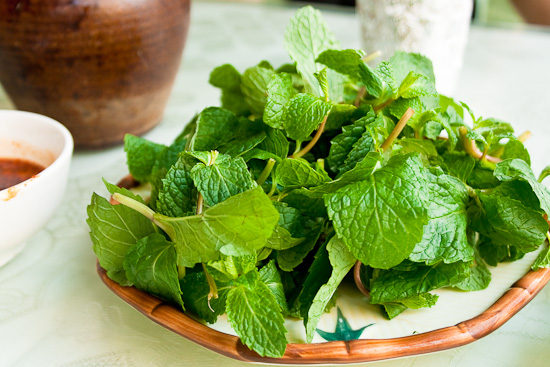 Have you ever had a mint salad? If not, then I suggest you seek one out right away. I know, early spring hardly seems like the time for fresh mint, but these little Yunnan salads are so good that I can't help but want them year-round.
They're the essence of refreshment, and if ever I live in a city where Yunnan restaurants are few but mint leaves are many, I would make them myself. It's so unbearably simple: freshly plucked mint leaves, plus a magical little dipping sauce of vinegar, lime/lemon, red chile peppers and some other ground-up spices – actually, I'm quite sure the magic is in the dip. Think tropical – pungent, spicy, tangy flavors to match the lush region of southern Yunnan from which this dish hails.
Unfortunately, mint leaves are expensive in Beijing, hardly to be found outside of high-end groceries. On the bright side, Yunnan restaurants aren't so rare, and make this dish (liangban bohe 凉拌薄荷) for the easy price of RMB 16-18.
One of my favorite Yunnan places is Bao Qin Dai Wei (宝琴傣味), a little restaurant by the Minzu Daxue (Central University of the Nationalities), run by a Dai minority family, with Dai chefs and Dai waitstaff. Very nearly as good is its neighbor, two doors down, Golden Peacock (Jin Kongque 金孔雀), operated by another Dai family. Some people say Bao Qin makes this dish better, but Golden Peacock is better at some other thing. Are the two families bitter rivals? Will there be a lovestruck romance between the clans that can only be resolved by a cook-off to the death? Perhaps a taste test is in order…
Related to the Thai, the Dai people live in the Xishuangbanna region of Yunnan province, on the border with Myanmar and Laos. Their food owes more to Southeast Asia than China: lemongrass, papaya, limes, bananas, and pineapples all make frequent appearances, mellowing the more assertive spicy and sour flavors in Dai cookery.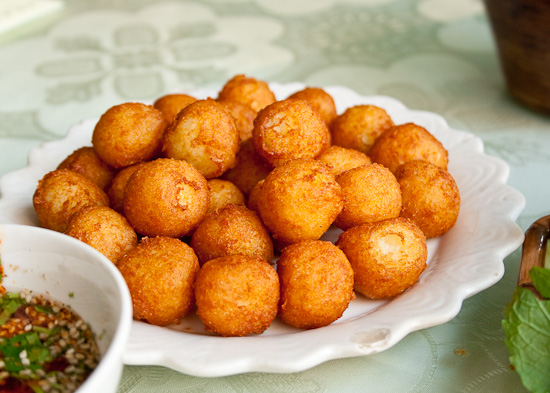 Just because of their longer hours, I seem to end up at Golden Peacock more often, at least for lunch: Bao Qin's staff are religiously punctual about 3pm nap time. It's hard to motivate myself for the long trek up, but fresh, hot, deep-fried potato balls (tudou qiu 土豆球) make a compelling argument. Golden and crunchy on the outside, each little sphere gives way to a creamy, mashed potato-like interior. They're addictive plain, or with the accompanying spicy, sour sauce. The dipping method (zhanshui 蘸水, literally "dip water") is quite popular in Yunnan: anything, from blanched leafy greens to country chickens, can be cooked lightly and then served with a complex sauce.
Perhaps to differentiate itself from its neighbor, Golden Peacock has recently introduced an expanded (and more expensive) menu. The new dishes we tried didn't really impress: trendy little packets of this and that, finger-food rolls of vegetables, fussy iced beverages – please, just give us hearty, country food, heaping stir-fries of peppers and bacon and bamboo. However, we did find one thing to our liking, a dry-fried sour bamboo (ganchao suansun 干炒酸笋). Fermented to prevent spoilage in the steamy tropical weather, this bamboo is almost aggressively sour. It can be toned down with sweeter vegetables like tomatoes and greens, or, as here, it can be dialed up to a fragrant, powerful dish, spicy and dry with not a splash of sauce to cool you down.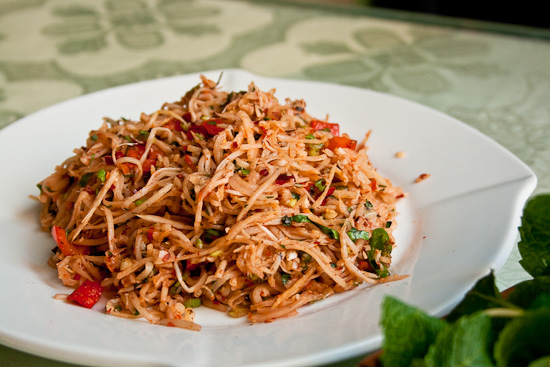 After that, you might certainly want some of their sweet, light rice wine (mijiu 米酒), or glutinous rice steamed with chunks of pineapple, served in a whole pineapple (boluo fan 菠萝饭). My love of glutinous rice almost never lets me leave without a little something, and so that day it was sticky rice steamed in hollowed-out bamboo. Supposedly they only make 12 of these a day, in sweet and savory versions. When it arrives, you peel back the bamboo yourself, revealing pearly rice imbued with the pure aroma of bamboo, and in the sweet variety, delicate azuki beans.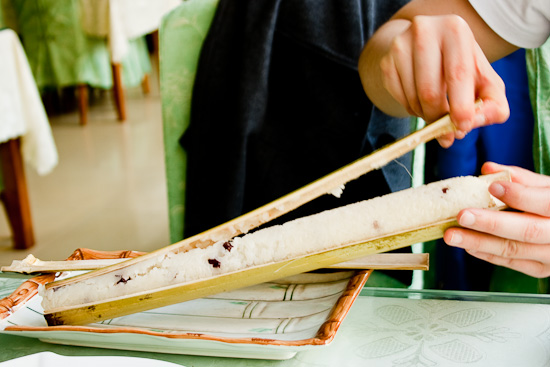 Bao Qin Dai Wei
[
map
]
16 Minzu Daxue Beilu, Weigongcun
Haidian District
Tel: (010) 6848 3189
宝琴傣味
海淀区魏公村民族大学北路16号
Golden Peacock
[
map
]
(Same street address, but further west)
Tel: (010) 6893 2030
金孔雀德宏傣家风味餐厅