Perhaps he'd never seen a girl with so many lemons. Perhaps he was just a really nice man. Whatever the reason, not only did he stop his car to let me bike past, on busy Andingmen Bridge over Second Ring Road, but he also gave a little "go ahead" wave. I couldn't repress a huge smile; he smiled back. I biked off, my bag bursting with lemons.
Lemons: if I could find you every day, would every day in Beijing be like this?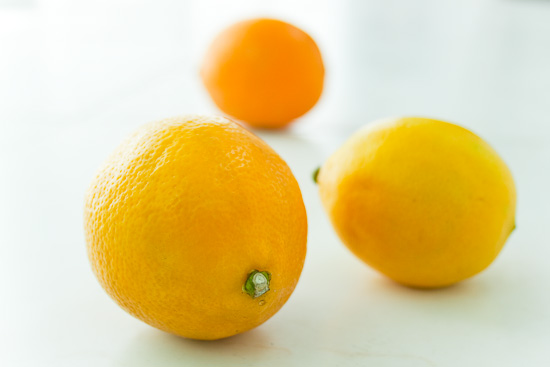 To backtrack, I had been looking for China-grown Meyer lemons everywhere, ever since I found out that they originated from China. If they're from China, why are they called Meyer lemons? It turns out that one Frank Meyer, plant explorer, brought them from Beijing to the US Department of Agriculture in 1908. If they had Meyer lemons in 1908, then why not in 2010?
Meyer lemons are the result of a cross between lemons and mandarin oranges. Hence, they are rounder, more orange in hue, and less acidic. But while I saw imported lemons (your typical pointy yellow specimens) at most larger fruit stalls and markets, the local Meyer was nowhere to be found. Most Chinese people don't eat lemons as part of their daily diet, and so no one was clamoring for the cheap, locally grown fruit.
Then one day I found them right in my neighborhood – and upon reflection, their location does not seem entirely fortuitous. Just inside of Andingmen, there's an apartment complex home to quite a few expats. Next to the apartments, on Jianchang Hutong (箭厂胡同), there's a French xiaomaibu (convenience store), and just a little further north is my fruit vendor. In fact, there's two fruit stores; don't go to the northernmost one; go to the one nearest to Boucherie Francais. The fruit shop [map] is just at at Jianchang Hutong's intersection with Yongkang Hutong (永康胡同), which runs east from Andingmennei Dajie. For those of you who like landmarks, it's across from a public bathroom.
It looks like any old fruit store but they have lemons, Meyer lemons, I tell you, three for RMB 5. What a deal! I thought, and promptly bought 13. The owner was flabbergasted but delighted: Do you own a restaurant? In any case I may have been a bit excessive. But don't worry; there's still plenty left. She told me they'll have lemons and limes (for the same price) for the next few months. Ask for guochan ningmeng (国产柠檬), or China-produced lemons.
Each of my 13 lemons have already been allotted jobs and destinies – they're ahead of me already! Some will become lemon tarts, and others lemon-pistachio cakes, and the rest will make friends with the kumquats in a citrus jam. Even the thirteenth, who never made it home, found his calling prematurely.
He tangled into the brakes and spokes of my bike wheel. A quick twist, a shuddering halt, and the little lemon was pulverized – in mere seconds I had a bag full of juice. This leads me to realize that my bike, despite being creaky and slow, has unexplored potential as an ultra-efficient juicing machine.