Science seems to lend itself well to calendar days. In high school chemistry class we celebrated Mole Day, but it was pretty boring – no chocolate mole sauce, or cute and furry moles. March 14 is much more exciting: it's Pi day, or better yet, Pie Day. So in honor of one of our favorite round pastries, we bring you this true-to-Beijing haw berry pie.
Hawthorn berries are so very representative of Beijing – one of the best street foods you can get here are the wintertime candied haw berries, glazed in a crunchy coat of melted sugar. And kumquats (jinju 金橘) are appropriate little symbols of prosperity for the new year. They're also rather seasonal too, if you've had the foresight to jam them in early winter – I used my beloved haw berry kumquat jam (now running sadly low). It's tart, sweet, and citrus-y, and matches wonderfully well with the fragrant almond crust from Orangette.
It is rather more tart than pie – as you can see, it's more like a changed-up linzer tart – and I do have a tart pan but not a pie pan. I made a little one, with the leftover crust, and it was even more tart like. But I suppose you could say that it's all in the spirit of pie, pi, and Pie Day.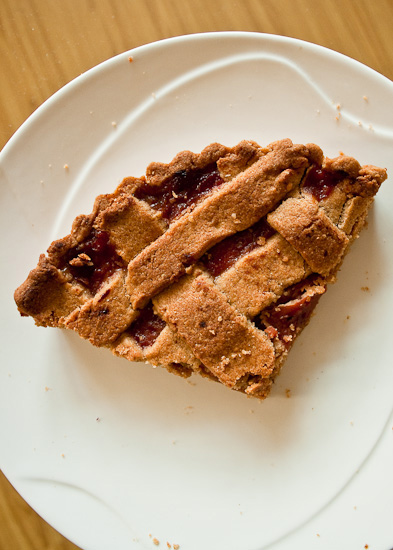 As Blogspot is blocked, I've reproduced the recipe below for us poor souls dwelling behind the great firewall.
Recipe

Filling: Haw berry and kumquat jam

Crust:
1 ½ cups all-purpose flour
1 ½ cups toasted almonds
¾ cup granulated sugar
1 tsp ground cinnamon
1 tsp chopped kumquat peel
¼ tsp ground cloves
A pinch of salt
6 Tbs unsalted butter, at room temperature
2 egg yolks, beaten
Water, as needed

Crust: Grind, as finely as your cheap blender will allow, the toasted almonds (this works best in small batches). Grind the kumquat peel, too, because you're too lazy to chop it into small bits. Mix the flour, ground almonds, sugar, cinnamon, kumquat peel, cloves, and salt in a medium bowl. Add the butter, chopped into small cubes, and mix with your fingers until crumbly. Mix in the egg yolks, and the check the dough for consistency: add water, a little bit at a time, until it is no longer crumbly and forms a dough. Refridgerate it for 20-30 minutes.

Bake: Preheat the oven to 200° C (400° F – if you've a toaster oven, as most of us in China do, it's best to keep the temperature a little lower than the recommended setting to compensate for uneven heating) . Butter a pie pan, or a tart pan, or what have you. Reserve a fourth of the dough for the lattice top, and press the remainder into the pan. Make it pretty, and bake for 18 minutes, until golden.

Assemble: Spoon the haw berry jam into the crust. Roll the remaining dough into a circle, about half a centimeter thick. Mine was a little thick but it's okay as I like crust: the more the better. Cut the dough into strips, and carefully transfer them on to the filling (wax paper comes in handy here). Weave the strips into a lattice. Bake for 25-30 minutes, until nicely browned.