There's little else I'd rather eat on a hot summer's day than a mountain of shaved ice (刨冰 baobing) – sometimes in lieu of the meal itself. What better way to cool down during a blisteringly hot day in Beijing – or after a spicy chili-laden meal – than a mountain of snowy ice, heaped with all manner of sweets and treats?
Baobing has friends and cousins all over the map, from Hawaiian shave ice to Vietnamese che to Filipino halo halo. In China, shaved takes its lead from Taiwan, where it's called chua bing (銼冰). Without the heaviness of ice cream, these are even more effective as an instant cool-down – after all, the primary ingredient is ice, and lots of it. They're also inexpensive, endlessly customizable, and as easily made in a street cart as in a mall.
The most important part of a superior baobing is, unsurprisingly, the ice, which should be as fine and powdery as fresh snow. The crystals should not be jagged or shard-like, as in Italian granita, but have an almost fluffy texture, melting in the mouth with the lightest crunch. Taiwanese xuehua bing (雪花冰), or snowflake ice, goes a step further by shaving a block of frozen milk-ice (which may be flavored with fruit). This creates a powder of exceptional fineness, and saves the need for condensed milk later.
Then there's the toppings: red azuki beans, green mung beans, taro balls, fresh mango, toasted peanuts, coconut milk, grass jelly, the list goes on and on. Almost anything sweet or syrupy can go on a baobing: one is limited only by imagination and availability. With a little planning, it's even possible to make a whole meal out of it: grass jelly for vegetables, red and green beans for protein, tapioca balls for starch, and condensed milk for dairy and sugar. Even the heat is bearable when it gives you an excuse to have dessert for dinner.
Here's a run down of some of Beijing's best places for shaved ice:
Baodao Bingzhen 宝岛冰镇
It may not look like much, but this unassuming stand in the basement food court of Shin Kong Place churns out some of the finest shaved ice in Beijing. The super mango ice (超级芒果冰, chaoji mangguo bing, RMB 25) does not stint, with a perfect ratio of fresh mango chunks to ice as powdery as fallen snow. Here you can also try the Taiwanese classic of snowflake ice, infused with milk and fruit – it's as delicate as spun cotton.
Basement, Shin Kong Place, 87 Jianguo Lu, Chaoyang District (Line 1 Subway: Dawang Lu, northwest exit) [
map
]
朝阳区建国路87号新光天地B1层(地铁一号线大望路站)
Din Tai Fung 鼎泰丰
Come for the baozi, but stay for the sweets. My heart is always torn between their combination shaved ice (RMB 30) and the almond tofu shaved ice (RMB 35). You'll find the latter nowhere else in Beijing, and the pairing of sweet, mochi-like almond tofu (杏仁豆腐 xingren doufu) and powdery milk-infused ice is a match made in heaven. Every morning, chefs pound together a paste of sweet and bitter almonds for two hours to achieve that soft, pillowy, jello-like texture that makes their almond tofu almond tofu so unique (I hope they take turns).
The combination ice (RMB 30), on the other hand, shines as a superior interpretation of a standard. The ingredients are humble, but the execution is superb. The result is a beautiful combination of fine shaved ice, tapioca balls, red beans, green mung beans, and wonderfully chewy taro balls. You can also opt for fruit toppings such as kiwi or mango (both RMB 35).
Various locations, including on the 5th floor of Shin Kong Place, above, and in the Xidan Grand Pacific Mall, as well as:
24 Xinyuan Xili Zhongjie, Chaoyang District (off of Xinzhong Jie). Tel: 6462 4502 [
map
]
朝阳区新源西里中街24号
iTea 找茶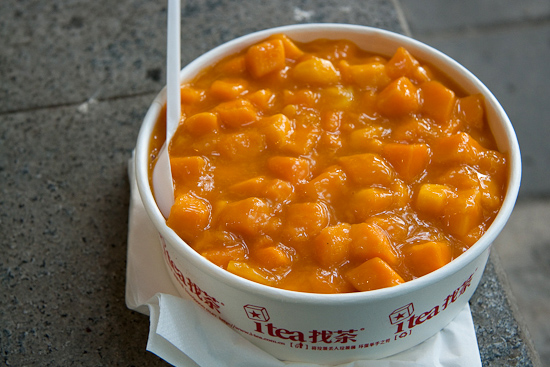 This Beijing chain is already documented here, and we haven't yet tired of its affordable, well-executed menu of iced beverages, slushes, and shaved ice. The mango cubes with mango slush (芒果爽, RMB 28) satisfies even the most voracious of tropical fruit cravings by replacing the shaved ice with frozen mango ice. The super mango ice (RMB 25) is bigger but less delicious: it comes with a rather ordinary ball of mango ice cream, atop mangoes and plain shaved ice. Their range of ice slushes (RMB 15-18) are simple but no less refreshing; I prefer peanut and coffee. Watch out for the plum slush, though, which features not fresh plum but salted plum. They also do a decent combination shaved ice (刨冰), with tapioca balls, aiyu jelly and rough shards of ice that melt just a little too fast.
Description and address of iTea here
Green Sprout 绿豆苗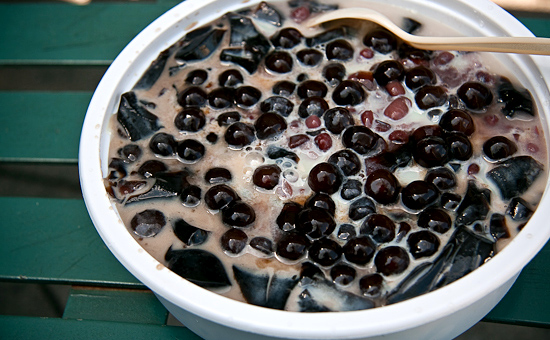 Another Taiwanese outpost, this bubble tea expert also makes a delicious shaved ice (RMB 18) with customizable toppings. Though the ice crystals here are larger and crunchier, it's more than made up for by the quality of the accompanying sweets and sauces. The exceptional tapioca pearls are full of bouncy chew, the red beans are sweet but not cloying, and the passionfruit sauce doesn't have a whiff of artificiality. More unique toppings include aiyu, a jelly made from the seeds of a fig-like fruit, and hantian, another jelly based on seaweed extract valued by Taiwanese people for its weight-loss properties. And you can't go wrong with their excellent, though pricey, milk teas and green teas.
In the basement of Shin Kong Place (see Baodao Bingzhen, above, for directions)
Shin Yeh 欣叶
Shaved ice takes a backseat to sweets and desserts at this excellent Taiwanese restaurant – the best in Beijing. But should you ever tire of chewy mochi dusted with peanut powder or pastries stuffed with red bean paste and salty turnip, turn to their beverage menu for a short list of icy treats. The red bean ice comes either in individual portions (RMB 8) or to share (RMB 38), and matches well-stewed red beans, plump and satisfying, and mochi-like taro "cubes" and sweet potato "cubes". It's pretty good, but perhaps not as breathtaking as their desserts.
Full description of Shin Yeh and its address
Fanqian Fanhou 饭前饭后
I've never paid for a shaved ice at Fanqian Fanhou. This Taiwanese restaurant offers a variety of promotions almost constantly, which sometimes let you have a complimentary dish or a complimentary dessert. The most recent one, as of June 2011, seems to be free dessert if you order two of their signature dishes on weekends. The shaved ice here is a plump dome, not as tall as those at Bellagio but wider at the base. There's a good mixture of red beans, mung beans, tapioca balls, sweet potatoes and condensed milk. It's a most ordinary attempt at shaved ice, but as it's always been free when I've had it, I can't complain. The cooked dishes, however, are delicious, and the real reason why I come here. Free dessert never hurts though.
Inside the historic Nanxincang Granary area, 22 Dongsi Shitiao, Dongcheng District. Tel: 6409 6978 [
map
]
东城区东四十条22号南新仓文化休闲街内
In Solana Shopping Mall, 6 Chaoyang Gongyuan Lu, Chaoyang Park (north of the west gate of Chaoyang Park) [map]
朝阳区朝阳公园路6号蓝色港湾国际商区1号楼
Honeymoon Desserts 满记甜品
This Shanghainese chain has only a few icy options among their generally outstanding collection of Hong Kong-style desserts. But any dessert round-up would be incomplete without their fresh mango and black sticky rice swimming in a icy lake of coconut milk (RMB 26). It's a perfect symphony of flavors. I'm also a big fan of their cold "vanilla" soup, with basil seeds, fruit and ice.
Honeymoon Dessert seems to have set up in every single mall in Beijing, including Oriental Plaza and Raffles City.
Bellagio 鹿港小镇
I've never been much of a fan of this classic of the late-night dessert scene. Their ices never feel like they're worth the price, and the atmosphere is just pretentious. The signature bean towers could be fare more generous with the toppings – by the end, we're left chipping away at a hardening core of ice. The peanut butter slush ("smoothy") started to feel disgusting by the fifth bite: was there a full cup of peanut butter in here, or thick, cloying peanut substitute? Either way, lesson learned.