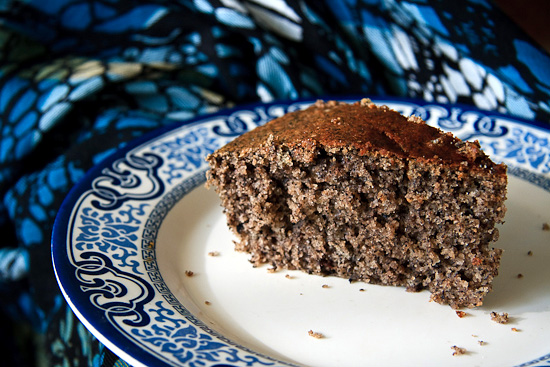 Recently we've started ordering organic yogurt from Green Yard Organic Dairy, based in Yanqing County. Though it's not as thick and creamy as unsweetened Herun Yogurt ( 和润酸奶), I've come to prefer Green Yard because it's local, organic, and comes in a recyclable  paper carton. I loved Herun, which is also local, but it's sold in little plastic tubs that have been piling up in my house, and I'm running out of ways to reuse them.
The only real downside to Green Yard is that they deliver 8 cartons at a time, a bit overwhelming. Even after giving away a few cartons, we still had too many. Freezing them wasn't an option: the few I tried became oddly grainy after defrosting.
And then I remembered my favorite yogurt cake. Perhaps I'm a fickle person, but I'm always moving on to new recipes. This is unfortunate for G., who rarely gets a second try at something he loved the first time. My excuse is that it's more fun for me to always be making something new – anything that he really likes, he can learn how to make them.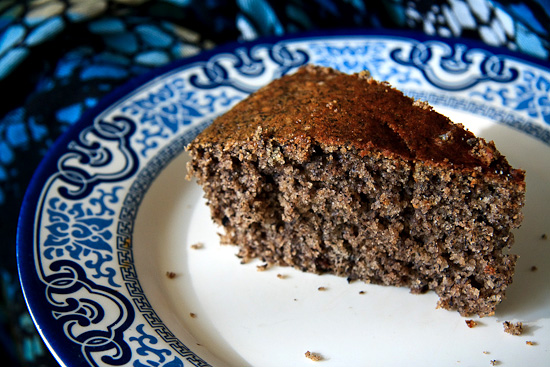 Fortunately, this yogurt cake satisfies both my desire for something new and his fondness for an old favorite.  The original recipe is a wonderfully versatile blank canvas, ideal for any flavors you fancy. I've made blueberry, lemon, and hawthorn berry before, with excellent results. This time I also added about two tablespoons of my sourdough starter, leftover from feedings, which I think help gave it some extra rise.
And happily, the black sesame version turned out to be one of the most delightful yogurt cakes yet. The crumb is moist, fluffy, and tender, a beautiful shade of purple-black. The sesame was nutty and mellow and sweet, exactly what I wanted it to be. I wanted to bake a second one immediately upon finishing the first, but I was saved from this uncharacteristic maneuver by one small detail: we were out of yogurt.
Black sesame yogurt cake
Adapted from Chocolate & Zucchini's gâteau au yaourt
1 cup plain flour
3/4 cup ground black sesame
2 tablespoons cocoa powder
½ tsp baking soda
1 tsp baking powder
¼ tsp salt
2 eggs
¾ cup sugar
80 ml (1/3 cup) vegetable oil
250ml (1 cup) plain, unsweetened yogurt
1 tablespoon rum
1 tsp vanilla extract
2 tablespoons discard sourdough starter (optional)
Preheat the oven to 180° C (350° F), and butter a 25-cm (10-inch) cake pan.
Sift together the flour, ground sesame powder (which does not, in fact, sift very well), baking soda, baking powder, salt, and cocoa powder.
In another bowl, beat together the eggs and sugar. Add in the unsweetened yogurt, vegetable oil, rum, vanilla extract, and sourdough starter (if using). Mix well.
Gently fold the dry ingredients into wet ingredients; mix until just combined. Pour into prepared cake pan and bake for 30 to 35 minutes, until the top is golden-brown (golden-black?).
Submitted to Wild Yeast's Yeastspotting.