I'm feeling anxious and nervous before the upcoming Germany-Spain game of the World Cup – betrayed by our own octopus! – so I'm trying to distract myself. And what better distraction on this hot and humid day than ice cream? Awfully Chocolate is known more for their decadent chocolate cakes, but they also make some of Beijing's best dark chocolate ice cream.
The  ice cream is called hei 黑 or "black" – appropriate for the intensity of the chocolate they use, which according to their website is 70% cocoa Belgian chocolate. The texture is perfect, dense and rich. Best of all, it isn't cloyingly sweet like many ice creams, allowing the bitter notes of the chocolate to speak for itself. Each bite is a blissful excursion into the essence of chocolate infused into cold creaminess.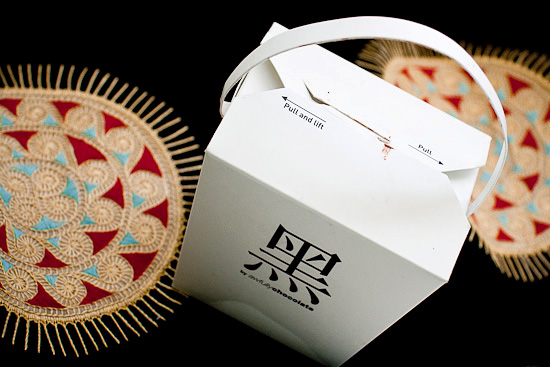 A pint costs RMB 80, and comes in a cute little takeaway container. They give you a small insulated bag so you can get it home without a meltdown. Or you can get a scoop for RMB 25. It's expensive, but oh so worth it. Their cakes, too, are worth a try, especially for a special occasion.
Awfully Chocolate is a Singaporean chain with locations in Beijing, Shanghai, Dalian, and Guangzhou, as well as in Hong Kong and Taiwan. Their stores are minimalist white to the point of being sanatorium like – perhaps a commentary on just how crazy about chocolate they are?
Click here for their Beijing store locations and hours. You can also order online with delivery service.