Tanghuoshao (糖火烧) are sweet brown-sugar buns generously swirled with sesame paste (tahini). Baked in an oven, they have a crunchy, nutty outer shell, and a warm, soft interior melting with sugar and buttery sesame. A cousin of the savory roasted sesame buns (shaobing 烧饼 or huoshao 火烧), they make a fine afternoon snack or breakfast – for me, they were part of the weekly breakfast rotation during the summers at my grandparents' house.
Now that I live outside the family nest, I hardly ever wake up early enough to catch what few breakfast stalls there remain – I don't mean those Beijing breakfast carts, but the real deal, with their own stove and deep-fryer and a devoted community clientele. Like all shaobing-esque items, they're at their best when newly emerged from the oven. So it's been a while (I did find a Niujie shop that bakes up multiple rounds of tanghuoshao, but still, Niujie is a bit far).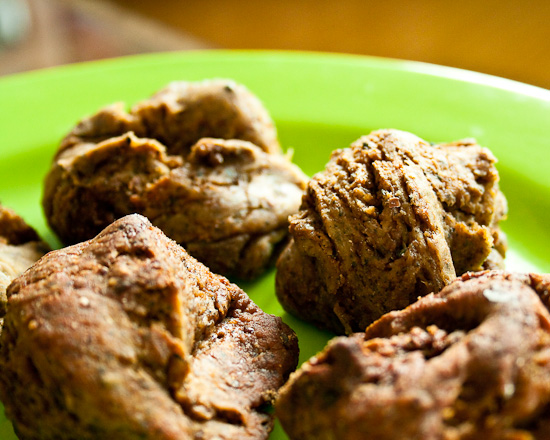 Fortunately, tanghuoshao isn't that hard to make, using fairly common ingredients. But I also wanted to create a more healthful version, so I added things here and there, one flour after another. I may have gotten a little carried away – I even tossed in some of my sourdough starter. Shaping them was surprisingly mess-free (no gobs of sesame paste on my walls!), and they emerged delectably soft from the oven, nutty from the ground sesame seeds and flax seeds. Next time, who knows? More sesame?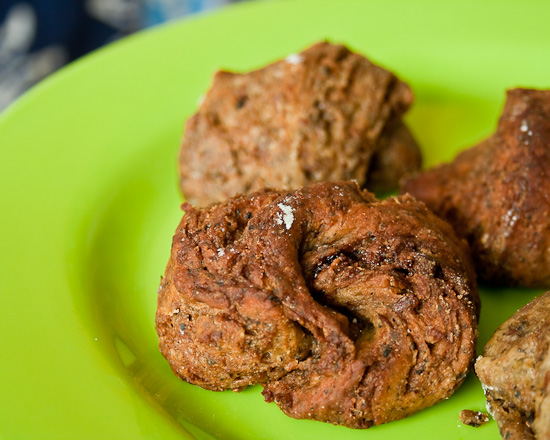 Multi-grain Sweet Sesame Buns (Tanghuoshao)

For a more traditional version, use all-purpose flour. I also replaced the oil in the dough for (expiring) milk, and next time, I might try adding sesame paste into the dough itself too. Those with a sweet tooth might want to double the sugar in the dough. I also added around 50g of my excess sourdough starter, which had been sitting quietly in the fridge for several days.

For the dough:
- 105g millet flour
- 30g glutinous rice flour
- 45g buckwheat flour
- 120g all-purpose flour
- 15g ground black sesame seeds
- 25g flax seeds
- 90g milk
- 150g water
- 30g sugar
- 1 tsp yeast
- 1 tsp salt

For the filling:
- 100ml sesame paste¹ (tahini)
- 6 tbsp brown sugar
- 5 tbsp ground sesame seeds (I prefer black)

The dough: Grind the flaxseeds in a blender (or something similar) with 25g of water; set aside. In a medium bowl, combine the flours, ground sesame, milk, the remaining water, and yeast, and mix until it forms a dough. Add the salt, sugar, flaxseeds, and knead until smooth, about 8-10 minutes. Cover, and let rise at room temperature for one hour. Press down gently to de-gas and refrigerate for 12-18 hours.

[Edit: I've done another version of the dough with 130g all purpose flour, 90g whole wheat flour, 110g millet flour, and 60g ground black sesame. The liquids consisted of 220g of water and 60g of canola oil. I also added 40g of discarded 100% sourdough starter. The total hydration was 71%. After a 30min autolyse, I added the salt and sugar, and found the dough to be smooth, silky, and in need of very little kneading.]

The filling: Combine the sesame paste (or tahini, but not tahini sauce) with the brown sugar and ground black sesame. If you have a little extra after making the buns, this also makes a delicious spread on bread.

Shape: On a lightly floured surface, roll the dough out into a long rectangle, about 0.5cm thick. Spread the sesame filling on the dough, making sure to leave about 2cm empty along one long edge (so it will seal when rolled up). Starting from the other long edge, gently roll up the dough, forming a log, and seal – like a cinnamon roll.

Then, fold one end of the log towards the middle, about two-thirds of the way in, and repeat with the other end – like a letter fold. Pat the log into a small rectangle, and roll out again to about 1cm thickness; this is to create more layers in the dough. Roll up into a log again, and slice into 12 small pieces, but obviously, you can also make larger ones. For a more traditional bun appearance, shape each piece into a ball and flatten into a round; I was feeling fancy and shaped them like huajuan'r (花卷, flower buns).

Bake: Cover the shaped buns, and proof for one hour. Preheat the oven to 375°F (190° C), and bake for 20-25 minutes.

¹ In China, fresh sesame paste and seeds should be widely available; try this store. Outside of China, sesame paste and black sesame seeds can generally be found in Asian grocery stores. Raw sesame seeds can be roasted in a frying pan over low heat and ground in a spice grinder or food processor.