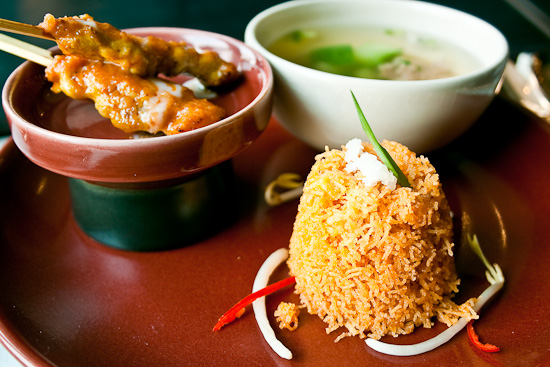 Good Thai restaurants are few and far between in Beijing, which I suppose is only fair, given how far we are from limes and mangoes and galangal. Most Thai restaurants here are operated by Chinese staff and serve what they bill as "Thai flavor" food.
So what a surprise when Patara comes along, with not only chefs transplanted from Thailand (how they must feel the gray, cold weather!) but also special ingredients like galangal and lemongrass as well as some of the decor elements (lacquered baskets for holding rice). This speaks promisingly of Patara's commitment toward authenticity and quality – after all, though it may be an international chain, with branches in London, Singapore, and Taipei, it started as a humble little restaurant in Bangkok, opened by the eponymous founder, Ms. Patara.
A glance at the glossy menus told us that this was modern, sophisticated Thai food, with innovative dishes like DIY Thai tacos, seared tuna with lemongrass, and curry crab. Desserts like poached pears hint at Patara's journey around the world. But the high prices – upwards of RMB 70 per dish – kept us strictly to the set lunch. Which is alright with me, as I like sets: a little of everything! tea! dessert!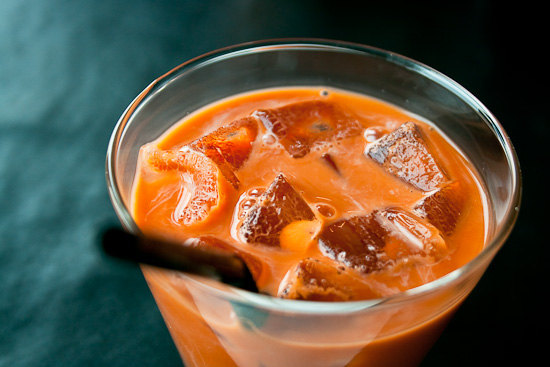 We started with a Thai tea with condensed milk and a small, artfully arranged platter of appetizers, including satay skewers, soup of the day (today: some kind of gourd and meatballs), and fried crispy vermicelli. I really enjoyed this last – lightly sweet and sour, with a satisfying crunch and texture from all the little rice noodles.
Next was the main course, which one can choose from among several options. I went for the duck breast with chilis and crispy basil, although red vegetable curry and beef braised with coconut and lime were also tempting. But basil, there's a thing we don't see in Beijing too often. Here they were fried to near translucency, the leaves shimmering green with an almost satiny texture. Patara seems to excel at fried foods that don't taste overwhelmingly greasy or heavy – the basil almost melts on your mouth. The duck was tender and rich, and the accompanying rice won me over with its mix of brown rice – I love the texture of the grains.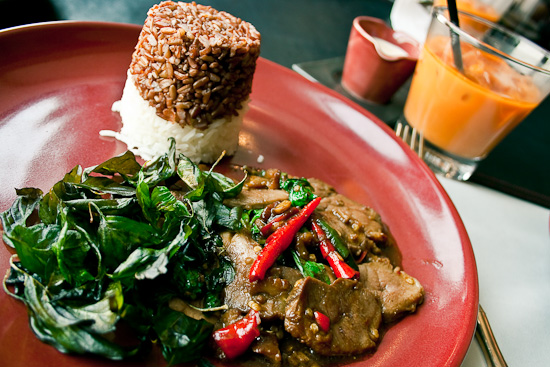 Dessert I could not figure out for a long time – what are these mysterious, oblong shapes, gelatinous on the outside and starchy on the inside? Delicious, but what an odd texture! A look at the menu revealed that it was called Red Rubies (tab tim grop), a traditional Thai dessert of water chestnuts, served with crushed ice and coconut milk. The red food coloring disguises the water chestnuts effectively, as does the little dusting of tapioca flour. We also had a second dessert of fried, caramelized bananas – mmm, second dessert.
With such amazing food, it's a wonder that Patara's elegant dining room is mostly empty. It's expensive, but there are plenty of people shelling out for equally pricey but less delicious treats. Poor publicity and a terrible location seem to be the culprit here: Patara is in a lackluster, depressed Jinbao Jie mall, whose fleet of world-class brands include luminaries such as "Coming Soon" and "Under Construction." Jinbao Place (金宝汇) clearly has its eye on the imaginary, affluent market, but its shops – the tenanted ones – suffer an identity crisis, mixing kitschy romantic statuary (memo: so obviously five years ago) with obscure domestic brands pretending at high-end status. My favorite  is the Car Cafe, with an actual Segway in the window and auto-themed decor that veers uncertainly between retro chrome and futuristic plastic. The barista revealed to us that this was, indeed, the brainchild of some businessman who clearly had too much money and no close friends to take him gently aside and tell him that it was all a very bad idea.
But back to Patara. The one upside is that it shares the mall with Da Dong, always sure to draw the crowds. Perhaps the hungry duck fiends will pause to look around, and notice this Thai gem on the top floor. At least the unfortunate locale gives Patara one definite advantage – a great view of the surrounding courtyard houses, extending north to Dongsi.
6/F, Jinbao Place (Jinbao Hui) [
map
]
88 Jinbao Jie, Dongcheng District
Tel: 10 8522 1678
泰廷,东城区金宝街金宝汇6层