People are always surprised when I tell them that I bake bread in China. It shouldn't, though, come as a shock, because flour, water and yeast are integral parts of north China cuisine. Just think of mantou, or the ubiquitous baozi and shaobing. But it's hard to make the conceptual leap from these things to bread: after all, they're so different, despite their shared ingredients. [Edit: You can also see my guide to baking in China]
To me, there's even more incentive to bake bread while living in China: the challenge is exciting, and the rewards – delicious bread and a new skill – are priceless. Local bakeries here favor a cottony, gormless loaf, while foreign bakeries take liberties to charge erroneous amounts for a little boule. For a fresh, crusty, wholesome loaf whose ingredients you can count on one hand, there's only your own trusty toaster oven to look to.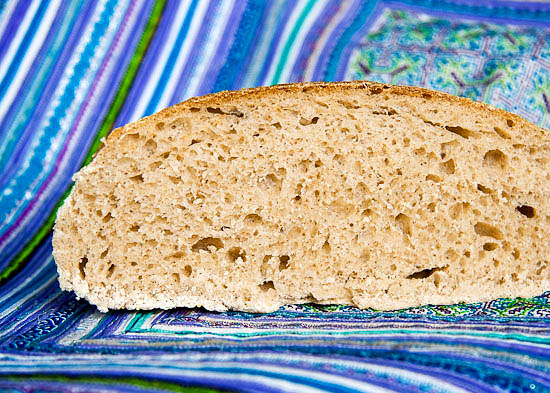 That's perhaps the only challenge of baking in China: the lack of proper ovens for home kitchens. Baking isn't part of Chinese cuisine, and most kitchens here are absolutely tiny – a gas range and some decent counter space is as much as one can hope for. Only toaster ovens are available, and only in Beijing and other large cities, where baking western pastries has lately become very popular with young urbanites (mostly women, actually).
A toaster oven is well and good for cakes and cookies, but for bread it's just not quite hot enough. Oven spring is unreliable and often lopsided: batards often rise on one end but not the other. The temperature is not quite precise, either; I rather doubt that my oven ever attains the 250°C (482°F) that it claims to reach. Grigne? Singing crust? I've yet to experience these things.
But there are also exciting perks to bread baking in China. I have a beautiful green marble slab that serves very well for a baking stone. I found it for RMB 30 (around 4 or 5 dollars) – thank you, construction materials market!  There's all kinds of fun flours to experiment with: sweet potato, "naked" oat, buckwheat, glutinous rice, black rice, and an incredible variety of bean flours, although I don't feel confident enough to formulate my own breads just yet.
Whole wheat and rye flours I procure at the Dongbei Yonghua Liangyou Shop (Northeastern Grains and Oils), run by a friendly couple who mill everything except but the white flour themselves. Lotus root flour, lotus seed flour, mung bean flour…it's all here, as well as almonds, pumpkin seeds, oats, and their specialty, rice from the fertile plains of northeastern China. Bread flour I buy at the Tongrisheng Grain Store, which also has sesame seeds, flax seeds, and rice of all colors.
So really: everything you need is here, even the wild yeast residing in the flour. My sourdough starter is some six months old (I should have, I suppose, kept track of its birthday), and like me, it's a born and bred Beijinger at heart. This is its latest effort, a sourdough country loaf inspired by Chad Roberston, made according to Shiao-Ping's formula at the Fresh Loaf.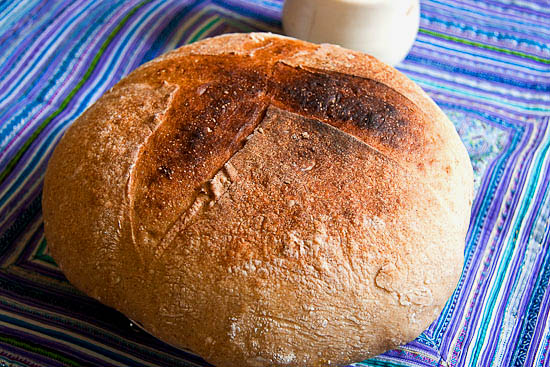 Thanks to the cold overnight fermentation, the crumb was very moist with a light sourdough tang, just the way I like it. I brought it to a dinner party where it was very well loved and disappeared quickly. I'm also sending it to Susan of Wild Yeast's Yeastspotting, a weekly showcase of bread.
Dongbei Yonghua Liangyou Shop
[
map
]
19 Dongzhimen Nanxiaojie, Dongcheng District (150m south of Gui Jie)
Tel: (010) 8401 7569
东北永华粮油店
东城区东直门南小街19号
Tongrisheng Lianghang (Grain Store)
[
map
]
56 Yonghegong Dajie (100m north of Beixinqiao, next to Cafe de la Poste)
Dongcheng District
Tel: (010)  6401 0473
同日升粮行
东城区雍和宫大街56号 (北新桥北100米)