Four or five years ago, you used to be able to count with one hand the number of icy-dessert shops in Beijing. Baobing (shaved ice 刨冰) was something I discovered in a tiny Taiwanese snack shop in what passed for Chinatown in Dallas (this was '96). Quality fresh fruit shakes? Nonexistent. Shaved ice desserts seemed to be the sole provenance of Bellagio.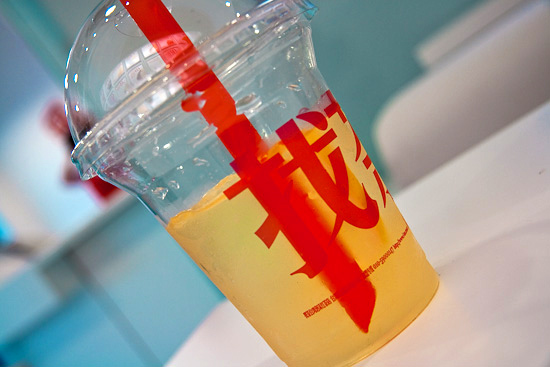 And now, in just the past year, we have a number of respectable shops serving refreshing, fruity icy treats. The latest, and my current favorite, is iTea (找茶), which aggressively expanded into Beijing a few months ago (from Wuhan, of all places!) with six new locations.
iTea  seems to have hit upon a rather winning combination of clean, bright aesthetics; high-quality teas, ices, and slushes; and low prices. The desserts here aren't really "refined" – not like Din Tai Fung's stupendous ices with their individually well-crafted ingredients –  but they're well made in their simplicity. The ice is very soft and fine, though usually I prefer more "powdery" ices that have more of a "crunch" when you bite into it, like eating snow. The flavors are true, the mango chunks generous and juicy, and that's all I really need on a day to day basis.
Perhaps the only downside is that all but one of their locations are inside malls, and thus overwhelmed with shoppers on the weekends. Hence, I generally repair to the sole non-mall locale, on Gulou Dongdajie, next to Cafe Alba. Among the mall shops I've visited, Oriental Plaza is relatively more peaceful, Joy City (Xidan) excessively crowded. Seating is pretty limited, so one just slurps and goes.
I may also shamelessly admit that I've gone through half the menu already. I'll add new items as I try them, too.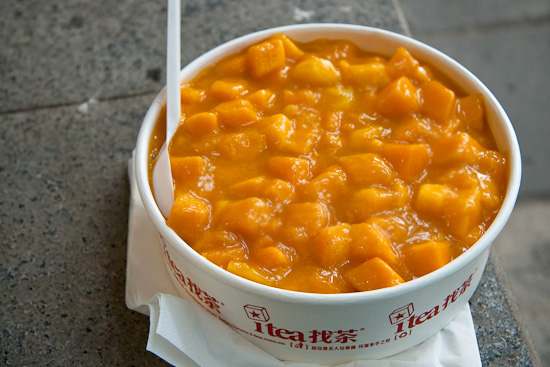 Desserts
Mango Slush with Mango Cubes 芒果爽 (mangguo shuang), RMB 30
iTea has a section of the menu dedicated to all things mango, of which this is the best (and the most expensive), delivering maximum quantity of mango with maximum iciness. You can't get more mango intensity than chunks of fresh mango over icy mango slush.
Jumbo Mango Shaved Ice 霸王芒果冰 (bawang mangguo bing) RMB 25
Despite the name, this is not better than the Mango Shuang, nor does it get you more mangoes. Instead, you get a fluffy ball of mango ice cream (premium this is not), over mango cubes, over an icy slush (coconut? brown sugar?).
[EDIT: As of July 2011, this item now features coconut pudding over fresh mango cubes over yet more coconut pudding. Only for those who have a high tolerance for floppy pudding lumps.]
Red bean and condensed milk ice 红豆炼奶冰 (hongdou liannai bing), RMB 18
Red (azuki) beans may not be everyone's choice of dessert, but I love them. Here they're gently sweetened, cooked until melting, and served with condensed milk. The best par is the icy base – not shaved ice but red bean-infused ice slush, softer than snow.
Red bean pudding and milk ice 红豆布丁牛奶冰 (hongdou buding niunai bing), RMB 23
Similar to the one above, but nearly twice the size and topped with a large cube of "pudding." The pudding is rather blob-like and custardy, without any particularly recognizable flavor.  I liked it, but I wouldn't order it again, preferring the plain red bean and ice version. Those hankering after puddings might enjoy it.
Peanut Slush 花生冰沙 (huasheng bingsha), RMB 18
If you like to eat peanut butter straight from the jar, this is for you. Cool, nutty, sweet, perfect ice texture – neither too soft nor too jagged. Why does peanut taste so good in ice slush form?? This boggles my mind.
Coffee Slush 咖啡冰沙 (kafei bingsha), RMB 18
Cold coffee ice – a little too sweet, though. Might be nice to cut it with some actual coffee or a shot of whiskey.
Assorted Ice 台湾芋圆冰 (taiwan yuyuan bing), RMB 20
Next to everything else at iTea, this classic shaved ice combination seems a little boring, especially as it isn't customizable, as every baobing really should be. Instead, one is locked into having ice topped with pineapple chunks, taro balls, tapioca balls, and aiyu jelly (made from a fig-like fruit, believed to have weight-loss properties). Alas, the ice melted too fast on this one, leaving us spooning icy soup. The taro balls and aiyu jelly have a fine, chewy texture, though.
[EDIT: This item is now no longer available, as of July 2011]
Beverages
Passionfruit green tea 百香果绿茶 (baixiangguo lücha) and passionfruit lemonade 百香果柠檬 (baixiangguo ningmeng) RMB 10
Let's take a break from all the ices: these two beverages are possibly the most refreshing ways to hydrate in the high summer. The passionfruit tastes natural; at the bottom of each drink, there are bits of fruit and passionfruit seeds, which produce a really delightful crunch. Other beverages here include various kumquat teas, juices and lemonades, still waiting to be explored.
Blackcurrant Passion Tea 百香黑加仑 (baixiang heijialun) RMB 15
This beverage, introduced July 2011, combines blackcurrant fruit tea with passionfruit juice, including bits of seeds. Fresh, simple and sweet.
Pearl Milk Tea 珍珠奶茶 (zhenzhu naicha), RMB 5
Surely the best value pearl milk tea in Beijing. The usual RMB 5 tea is a sugared-up fright reeking of artificial milk powder and limp tapioca balls. But iTea's creation actually tastes like real milk tea, and the pearls are soft and chewy. Also, you get one of these free with every 10 stamps on iTea's customer loyalty card. Which is not actually a good deal if, like us, you gravitate towards the mango, but still nice.
Vanilla Coffee 香草咖啡 (xiangcao cafei) RMB 15
Surprisingly good coffee, topped with a layer of rich, fragrant vanilla cream.
Papaya with Milk 木瓜牛奶 (mugua niunai), RMB 15
A tasty, if not particularly exciting, papaya fruit shake, sans ice.
The other iTea locations are in the Xizhimen Jiamao Mall (next to the subway stop, in the triple-dome towers building), the Wangjing Jiamao Mall, the Zhongguancun City Gate Mall, and most recently, in Solana.
Gulou
[
map
]
86 Gulou Dongdajie (between Cafe Alba and Nanluogu Xiang)
Dongcheng District
东城区鼓楼东大街86号

Oriental Plaza
[
map
]
FF01, basement/lower floor, Oriental Plaza Mall (near the Wangfujing end)
1 Dong Chang'an Jie, Dongcheng District
Tel: (010) 8518 3078
东城区东长安街1号东方广场地铁层FF01号
Xidan Joy City
[
map
]
6/F, Joy City
131 Xidan Beidajie, Xicheng District
Tel: (010) 5971 6084
西城区西单北大街131号大悦城6楼06号