The distinction of a metropolis' highest restaurant is usually a proud one, but in Beijing it can be a dubious honor. One step closer to the smog! A better vantage point for admiring the endless gray expanses in every direction! Such a visit would seem to be a guaranteed depressant.
So we planned with caution our visit to Grill 79, Beijing's highest restaurant on the 79th floor of China World 3 (also called the Summit Wing). Several potential visits were canceled, but finally, it was the perfect autumn day, with blue skies and the Western Hills visible even from the center of Beijing.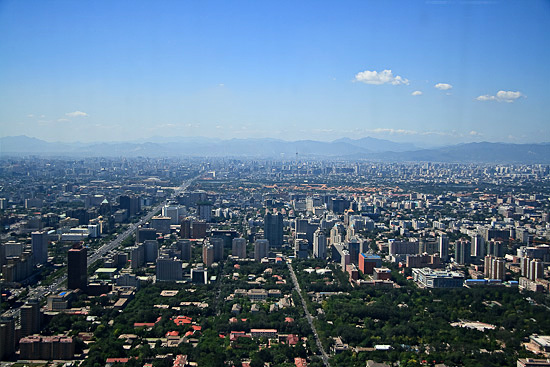 Up above, it was even better: all of Beijing was at our feet, glimmering in squares of green and gray and gold.  We thought we knew Beijing well, but from here we saw buildings and squares that we had never noticed before. The view stretched all the way to the old CCTV tower, the Forbidden City, and Beihai in the west; the Beijing South Railway Station in the south, and the industrial suburbs of Tongzhou in the east.
The most eye-catching structure by far, though, was right next to us. China World 3 sits just opposite Rem Koolhas's stately skyscraper redefined, the CCTV tower and its burnt-out little brother the TVCC. A mesmerizing view anytime, especially from this unusual angle – some of us never get tired of it.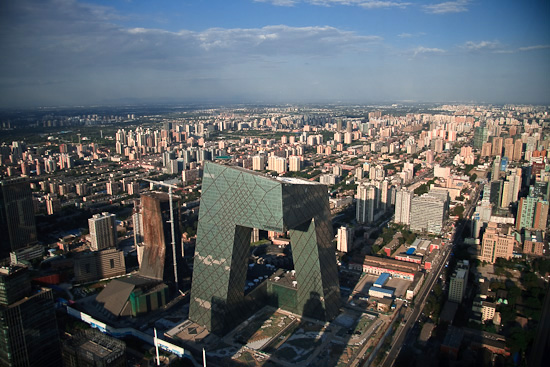 The chef at Grill 79 is Jean-Paul Lourdes, a young New Zealander who spent at least some of his formative years in Japan. Indeed,  Japanese influences shine through in his attention to detail and delicate, artful presentations – some dishes are as intricate as garden scenes.
The food, though, belonged squarely to that high-flying category of contemporary cuisine, with exotic ingredients and fanciful techniques. Here it was mostly quite good, except when it was just too much: too much manipulation, too many ingredients, and too many flavors. And then we were just left with a plate of expensive ingredients that sadly didn't mesh so well.
Case in point, this deconstructed salad, in which all the individual elements (quail egg, prosciutto, etc.) were interesting but none of it melded together in any way. The cold rolls of lettuce were exactly that, while the centerpiece, the frozen fried parmesan, was dry and insubstantial, like biting into aerated styrofoam.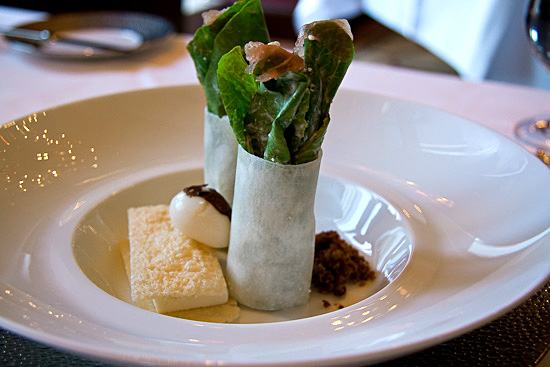 Much better was our main dish, a lightly seared trout presented with fruits and vegetables designed to evoke a forest scene. Here the slivers of grapefruit, tendrils of asparagus, and crunchy almond granola beautifully complemented the tender fish.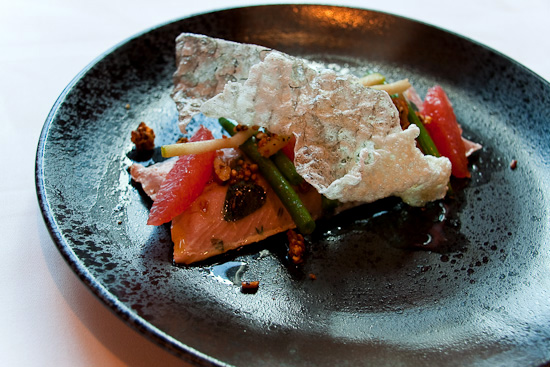 Fortunately, my favorite part of the meal did not suffer, perhaps benefiting from a simpler approach. The vintage chocolate tart was intensely dark, a boon for any chocoholic. In fact, it was almost too rich to be eaten without the mitigating effects of fresh raspberries and a lively black pepper ice cream – which I think was actually the show-stealer of this particular dessert.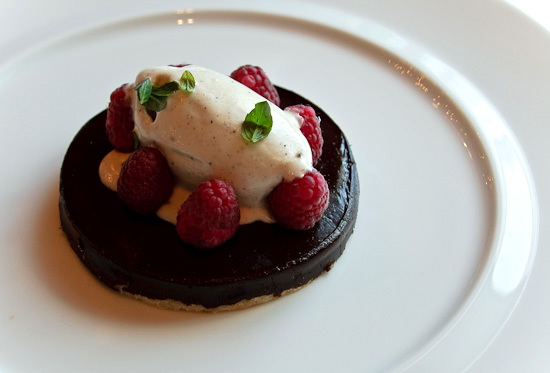 The "pistachio soil" was also arranged like a miniature forest scene, with crumbled pistachio shortbread strewn about like dirt. Not the most appetizing name, perhaps, but I was glad I took the risk, for the flavors were simple and true: cinnamon-infused apples, buttery biscuit, a green apple sorbet scattered with bits of thyme "grass", and shards of meringue.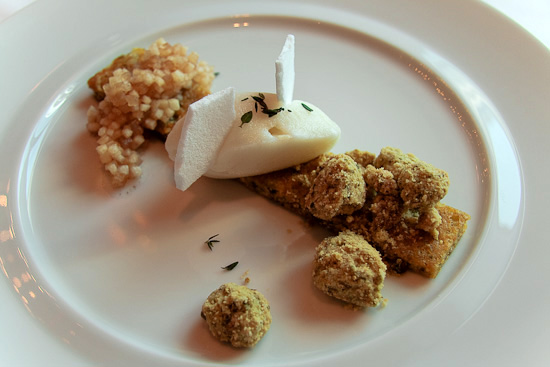 We opted for the lunch menu (two courses RMB 150, three courses RMB 180), which changes weekly depending on seasonal ingredients. There is no service charge, nor is there one at the Lounge, on the 80th floor above (along with the Atmosphere Bar). Here one can find the same fine views with more open tables and comfy chairs, though on a clear day all the window tables are snapped up quickly.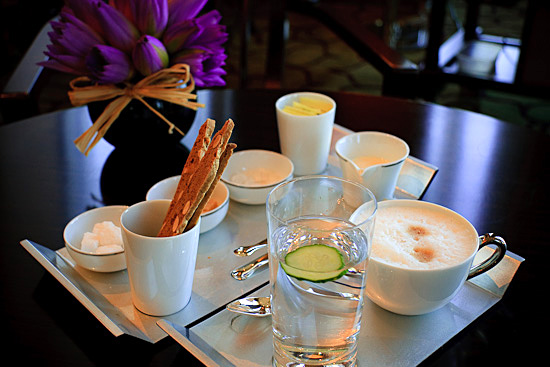 The cappuccino (RMB 45) was quite good, and though it's expensive, it comes in a neatly arranged tray with three kinds of sugar cubes and thin, crisp almond biscotti, making it perhaps the most enjoyable way of experiencing the fine views from China World 3. Fancy contemporary cuisine is an occasional treat for me, but a fine cup of cappuccino, with an almond biscotti to dunk, is a necessity. And did I mention that they have a cheesecake cart with more flavors than I've ever seen (lemongrass, mango, hazelnut, lavender…)? That's enough to turn a skeptic like me into a believer.
Grill 79 [
map
] [
site
]
China World Summit Wing (aka Guomao 3 or China World 3)
1 Jianguomenwai Dajie
Chaoyang District
Tel: (010) 6505 2299 ext 6424
国贸79
朝阳区建国门外大街1号国贸大酒店