Even after five years in Beijing, my boyfriend can never stop reminiscing about the incredible, unbeatable mochi he ate in Taiwan. None of the specimens we tried in Beijing met his lofty expectations – for they were prepackaged, out of a box, while those from Taiwan were made and sold fresh, from the  street.
Then one day we ate some mochi that made him stop talking, at least temporarily.
Surprisingly, it was at Shin Yeh (欣葉), a Taiwanese restaurant that I had always assumed was more style than substance. Surrounded by clubs with names like Babyface and Angel, this vault-like, mirrored restaurant is certainly not what you'd associate with crowded street food vendors and noisy night markets.
But as it turns out, Shin Yeh is an authentic Taiwanese import, with long lines going out of their Taipei location. Their Beijing branch does delectable renditions of Taiwanese street food and snacks of a quality and variety rarely found here. It certainly trumps Bellagio, the long-time undisputed king of Taiwanese cooking a few doors down.
Though fancy seafood dishes (mullet roe, crab) can make it quite pricey, that's not where Shin Yeh's real attraction lies (at least for me). It's possible to put together an interesting, colorful, and delicious meal from lots of nibbles and small plates. What steals my heart most of all are their Taiwanese sweets – they are the real reason why I come back. Aside from the ones mentioned here, there are also various shaved ices, including passionfruit, red bean, or peanut butter. It always defies my skills of indecision to choose just one, or even two!
Deep-fried oysters rolls with taro paste
One of Shin Yeh's many fried oysters options, this one resembles my favorite dim sum, the fried taro bun stuffed with a pork and peanut filling. Here the crisp golden shell presents a lovely textural contrast to the soft briny oyster within.
Taiwanese sausages 台式香肠 Taishi xiangchang
Slices of sausages eaten with slivers of garlic and coriander leaves (香菜) – not a good choice for a first date! Anyone who's lived in Taiwan seems deeply enamored of these, though I'm afraid I don't quite see the fuss. I suspect it's deeply tied into memories of eating these in a night market.
Sanbei King Trumpet Mushrooms  三杯杏鲍菇 Sanbei xingbao gu
Most sanbei dishes in Beijing feature chicken (which I don't eat) as their main ingredient, so I was quite happy to find this dish that lets me enjoy my beloved sanbei cooking. Sanbei or "three cups" is a Taiwanese preparation of braising something in one cup each of sugar, soy sauce and rice wine (others say it's oil instead of sugar), but the crowning touch is a handful of basil leaves. The king trumpet mushrooms are thick and meaty and flavorful, and the whole garlic cloves buried in the dish have soaked up much of the sauce. Shin Yeh also does the more traditional sanbei chicken for those who do partake
Tiger Bites Pig 虎咬猪 hu yao zhu
Fret not: we are not eating Asia's only big cat, of which there are only 3,200 left in the wild. This pork belly bun, more popularly known as gua bao (刈包), is so named because the sliced-open bun resembles a tiger biting into a hunk of sweet braised pork belly. Perhaps this picture captures it  better. Unlike most Chinese buns, which are stuffed, this one is like a pocket sandwich made with steamed, mantou-like bread – the jaws of the "tiger". Pickled mustard greens, cilantro, and crushed peanuts balance out the richness of the pork belly. Tasty, and for RMB 6 each, it's certainly worth trying, although I found the buns slightly too thick, making the whole thing rather difficult to bite into.
Garlic-fragrant beef 蒜香菲力 Suanxiang feili
I don't eat much beef, but when I do, I try to make sure it's something really worth the effort, and this was quite perfect. The nuggets of pan-fried beef were tender and juicy, but what really brightened this dish were the "chips" of garlic – I think we have a new contender for potential deep-fried snack food.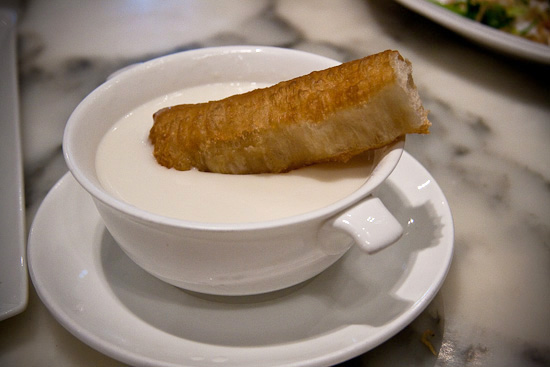 Almond Cream Tea 古早杏仁茶 Guzao xingren chan
Shin Yeh's dessert menu is what I think of first when I think about making a return trip. If I could, I would have this luscious, velvety almond soup every day. Sweet and intensely flavored by ground almonds, it's swoon-worthy on its own, but it's also fun to have it with the segment of youtiao, an airy, chewy puff of deep-fried dough. The lightly salty and sweet flavors go unexpectedly well together. RMB 16 per serving.
Hand-beaten Almond Tofu 手打杏仁豆腐 Shouda xingren doufu
I have long been a dedicated fan of almond tofu – which is not tofu at all – and for me the best is always at Cafe Alba on Gulou Dongdajie, with the almond tofu shaved ice at Din Tai Fung a close second. Shin Yeh's take on this is more traditional: the cubes of almond tofu are more gelatinous and "jello-like" – it's all about the mouthfeel (kougan 口感) here.
Turnip and red bean pastry 鸳鸯酥 Yuanyang su
Ignore the unappetizing name in English – the combination of tender flaky pastry, savory shredded turnip (yes), and sweet red bean paste is one of the most revelatory things I've eaten. Shin Yeh's signature dessert combines two classic Chinese sweets, the turnip pastry (萝卜丝饼 luobu si bing) and the red bean bun, and makes it work so well that you can't imagine them apart. Indeed, this is a match made in heaven, as hinted by the Chinese name, "mandarin duck" pastry – these beautiful ducks are traditional symbols of romantic love and marital bliss. The shape also looks a little like a duck with its head under its wing, don't you think?
Peanut-dusted mochi 麻糬 mashu (in Taiwanese, they call it something that sounds like "mua-ji") 
This is where it all begins. Once you've had freshly made mochi, it seems like you can't go back. Warm, soft, pillowy, they're served with a crumble of peanuts to add a like crunch. With that unique texture of sticky rice treats that Chinese people have taken to calling "QQ", these are about the most perfect mochi I've ever had. Perhaps it's time to make a trip to Taiwan.
Shin Yeh [
map
]
6 Gongti Xilu (next to the bowling alley at Gongti West Gate),
Chaoyang District
Tel: (010) 6552 5066
欣叶
工体西路6号
朝阳区