A friend once described Jiangxi to me as a province of lush mountains and precarious roads, revolutionary fervor and accidental scorpions, unwanted late-night hotel visitors and pristine natural landscapes. It has historically been poor, a quality reflected in its food: there's nothing like an explosion of hot peppers to make your plain white rice go down easier (this quality is called 下饭, xia fan, literally "down rice").
Perhaps as a result, there are few restaurants celebrating Jiangxi cuisine, though the Communists' starvation diet while hiding out in the province has long been immortalized in the revolutionary classic "Pumpkin Soup and Red Rice"¹ (南瓜汤红米饭). That may have been a rallying song for the Red Army's embattled guerrilla days, but it wasn't enough to launch Jiangxi's culinary fame. Whatever the reason, neighboring Hunan seems to have decisively surpassed Jiangxi in its quest for domination in the spicy revolutionary cuisine category. Which is a little unfair: Jiangxi food is far more than hot peppers and boiled pumpkins.
I've been a fan of Jiangxi food since visiting Nanchang Fandian (南昌饭店), the restaurant run by Nanchang (the provincial capital) government's Beijing representative office. I had heard that Poyanghu Dajiulou, named for a famous lake in Jiangxi, was even better, but unfortunately, it took me nearly two years to come here – anything in Haidian is not exactly convenient for we city dwellers. I'm already regretting the wait.
Cold mung bean jelly, served in a clay jug 瓦罐凉粉 (waguan liangfen) RMB 10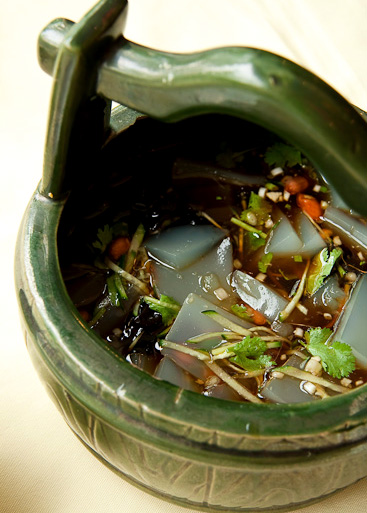 Jug, said the menu; I certainly wasn't expecting this handsome ceramic "basket". Inside was just the thing to cool you down after a long bike ride, beautiful cubes of mung bean jelly (liangfen) and slivers of cucumber swimming in a chilled spicy, lightly sweet, vinegary broth. Made from mung bean starch and water, liangfen is the stuff of hot summers – cold, slippery, and an ideal vehicle for sauces and condiments. Often it comes in noodle form, but these squares, eaten with a spoon, are less work and less mess.
Tianmu bamboo and old duck soup 天目笋老鸭汤 (Tianmu sun laoya tang) RMB 10
Among the specialties of Jiangxi are their slow-cooked soups, called  waguan tang (瓦罐汤) for the clay pots in which they are simmered for hours upon hours. They're considered very nourishing; each soup features one meat such as black-skinned chicken, pork ribs, duck, or hen, paired (as appropriate) with lotus roots, bamboo, or wild mushrooms. There are four or five varieties each day, available in personal or family sizes. Our bamboo and old duck soup began with a deeply xian (鲜) or "umami" flavor and finished with a light sweetness that took the edge off the richness of the broth. The chunks of duck were surprisingly generous and meaty, tender and melt-in-your-mouth.
Village-style wild garlic shoots 乡村野藠头 (xiangcun ye jiaotou) RMB 22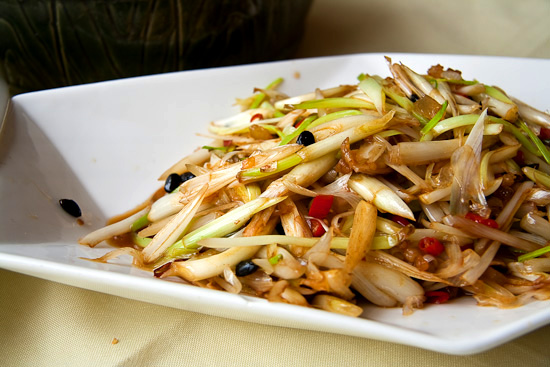 The usual wild vegetable to order at a Jiangxi restaurant is lihao (藜蒿), a plant that grows in the waters of Lake Poyanghu. Wikipedia tells me that it is one variety of mugwort, which is apparently used in medieval witchcraft to aid lucid dreaming and astral projections. But I had tried lihao already – with great enjoyment but without any interesting side effects – and it was time for something new. So I chose jiaotou, mostly for its intriguing character (藠) that I didn't recognize.
Jiaotou, it turns out is an undomesticated relative of the onion family – perhaps the pale, demure cousin of the garlic chive (韭菜 jiucai)? It certainly tastes garlicky, but without jiucai's pungent stench, which gleefully informs strangers within a 2-meter radius of what you've been eating. Allium chinense has a more mellow flavor, though that doesn't count for much when it's stir-fried with incredibly spicy chili peppers – somehow, this dish manages to be really hot without looking red at all! I had to have a rice chaser with every bite but, of course, that's part of the fun. It was wonderfully fragrant from the peppers, fermented black beans, and little bits of cured bacon – a perfect example of a Jiangxi stir-fry.
Water-boiled smoked bamboo 水煮烟笋 (shuizhu yansun) RMB 32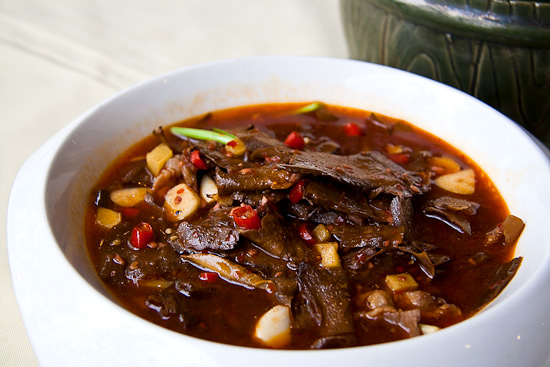 Compared to the fresh or pickled variety, smoked bamboo has a deeply nutty, toasty, concentrated flavor. Magnified with a splash of chili peppers, it is amazing. This dish was perfect: smoky slices of bamboo braised until tender in an extraordinary broth of chili peppers, ginger, and garlic.  It's not as spicy as it looks; I could happily eat it every day.
Poyanghu Dajiulou has lovingly translated every dish on its well-photographed menu into English, with somewhat hilarious results. One smoked bamboo dish was called "Stir-fry Cigarette Bamboo Shoot Silk with No Results" (no results? that's not even part of the Chinese name 干炒烟笋丝). Other dishes that tantalize the imagination include "The Glutinous Incense Chicken Wing is Middle", "Catsup Elbow," and "The Soya Bean Spends Crab." My favorite is "The Big Boiler of Life" – appropriately enough, it features boiled pumpkin.
Poyanghu Dajiulou [map]
11C Jimenli Bei, Yuexuan Lu (south from Exit D of the Xitucheng subway station, Line 10)
Haidian District
Tel: (010) 6204 4830
鄱阳湖大酒楼
海淀区学院路蓟门里北丙11号
¹ A rather stranger recording of "Pumpkin Soup and Red Rice" (nangua tang hong mifan) combines traditional and pop renditions with a hip hop interlude (2:08): Chairmao Mao, he had grass shoes!