Like it or not, mooncake season is upon us: Wednesday, Sept. 22, is Mid-Autumn Festival (中秋节), celebrating the roundest, most golden full moon of the year. Westerners may call it the harvest moon, but for China this moon is all about being together with one's family. The word for being together, 团圆 tuanyuan, literally means 'making a ball', and so the special foods associated with this holiday are all round – fruits, melons, and mooncakes. And if you eat too many mooncakes, you'll be round too.
The mooncakes from Xibei Youmian Cun (西贝莜面村) seem to be an exception to this generally heavy, lard-laden class of pastries. They claim to be low in oil and sugar, made with multi-grain flours, and they certainly do taste like it. The "skin" of the mooncake, usually smooth and greasily supple, was here dry and crumbly, with a hard shell reminiscent of the mo (馍), baked wheat buns from northwestern China.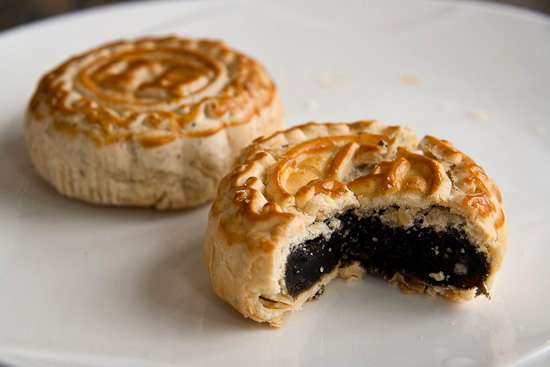 The red bean and chickpea (红豆鹰嘴豆 hongdou yingzui dou) filling is a riff on the classic red bean paste, and to be honest, the chickpea was hardly noticeable – it was more like a less sweet and vaguely nuttier red bean paste. As all beans are supposedly healthful, I've always assumed red bean (azuki) bean paste was also quite good for you – one way to justify all the sticky rice cake consumption – but chickpeas add a dose of calcium, magnesium, zinc, and folate.
This flavor combination may sound strange, but it also makes sense: they're both beans that are generally eaten in smooth paste form, only one with sugar and the other with garlic and olive oil, among other ingredients. Why not combine them? (This is also a challenge to make red bean hummus.)
The wandou heisanbao (豌豆黑三宝) mooncake, pictured cut open, is more unusual. The "three black treasures" consist of black sesame, black bean, and black wood-ear fungus (mu'er 木耳), which is more commonly seen in savory stir-fries than in pastry. Here the peas and wood-ear fungus seem to be included more for their health factor than anything. It really is just like eating a black sesame and sweet black bean paste mooncake – not a common flavor either.
These mooncakes come from Xibei Youmian Cun (西贝莜面村) or "Xibei Oat-Flour Noodles Village," a rather wildly popular chain of restaurants that seem to be mostly located on the outskirts of Beijing. They specialize in food from northwestern China, with especially tasty al dente buckwheat and oat-flour noodles, grilled mutton, and homemade yogurt and tofu. Other flavors from their mooncake series include oat flour and xylitol (莜面木糖醇 youmian mutangchun), whole wheat kernels (全麦仁籽 quanmairen zi), buckwheat and yogurt (荞面奶酪 qiaomai nailao), naked wheat and five bean (裸麦五豆 luomai wudou), corn and desert jujube/date (玉米沙枣 yumi shazao), and purple yam and pumpkin (南瓜紫薯 nangua zishu). I wish I could shed more light on these strange-sounding flavors, but I haven't tried them.
Xibei mooncakes are sold in boxes online (which gives you less choices about flavors), or individually in stores (where you can assemble your own flavor box). They cost RMB 16 each, making them fairly mid-range on the price scale.
My preferred mooncake vendor of choice is Gui Xiang Chun, 桂香春, a halal bakery that does delicious Beijing pastries as well as seasonal items like mooncakes and zongzi. They do all the classic flavors quite well, including my favorites, jujube/date paste (枣泥 zaoni) and "five nut" (五仁 wuren), and also seem to steer away from trendy but short-lived flavors like honeydew or blueberry. Mooncakes here cost between RMB 8 and 12, depending on flavor.
I've visited 3 branches of Xibei Youmian Cun, and they're always packed, though they're still mostly off the
expat radar
. The Sanyuan Qiao location in the Grand China building is perhaps the  most convenient, though the one outside the north gate of the Summer Palace is extremely close to the line 4 subway stop. Grand China Bldg, B1/F
[map]
Sanyuan Qiao
, Chaoyang District
Tel: (10) 6345 3535
朝阳区三元桥大新华航空大厦B1楼
Across from the North Gate of the
Summer Palace
(next to the McDonald's by the Beigongmen subway) [
map
]
Tel: (10) 6286 2150
海淀区颐和园北宫门对面 For other locations see
Dianping
or the
Xibei
website.
Gui Xiang Chun
桂香春 has counters inside the
Dongsi Wumei Store
(open until 9pm), at the northeast corner of Dongsi and Chaoyangmennei Dajie, and the Niujie Halal Supermarket.
Niujie Halal Supermarket
(in the center of the pastry annex) [
map
]
1 Niu Jie (southwest corner of the Niu Jie/Caishikou Dajie intersection), Xuanwu District
Tel: (10) 6355 6687
Daily 9am-10pm
宣武区牛街北口西侧1号
牛街清真超市1层