I have been preoccupied by a great many things recently, including another trip to Chiang Mai, where I went on a visa run. (The Chinese consulate there is very efficient, friendly and conveniently close to the old city.)
But the real reason (or at least one of them) why I've gone to Chiang Mai twice in four months is for the delicious, delicious northern Thai-style sausages.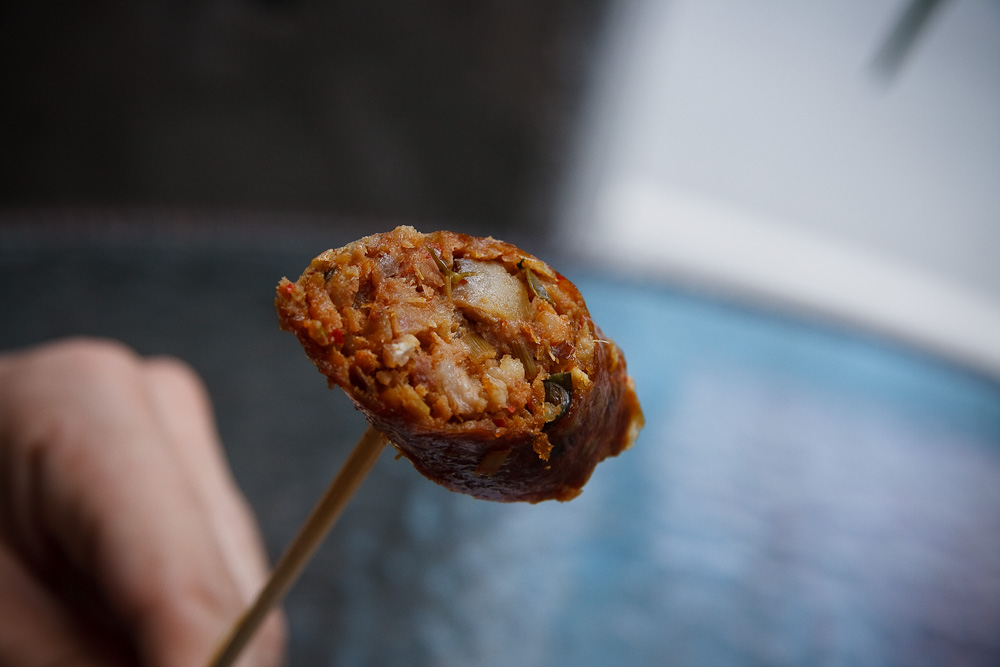 Following a random hint (from 2004!) I scrounged up on the internet, we went on a quest for what were said to be the best sausages in Chiang Mai. The vague directions led us far to the south of the city, to the eastern bank of the Ping River. But the Sheraton named in the directions had turned into a Holiday Inn, and for a long time we could not see anything that resembled a simple sausage stand.
Finally, just as we were giving up and retiring to a cafe, a small wooden house finally caught our eye. Located just next to the Holiday Inn, it was indeed Amporn Mengrai sausage.
And are the Amporn Mengrai sausages worth the hype? YES. They certainly were the best that I had tried in Chiang Mai (and believe me, we had not stinted on our sai ua consumption), though I can't speak for the entire city. They were also rather expensive, around 50 baht per 100 grams – comparable to restaurant prices. The price is worth it, though, as is the distance, if you're serious about sausage.
We tried the spicy sausage, which was indeed spicier than the norm, well balanced with the equally enticing flavors of lemongrass and kaffir lime. The texture was firm and moist, and even crunchier than usual – this can be either good or bad, depending on how one feels about texture in food. I liked it, and had we not been leaving Chiang Mai the next day, I would have been back to try to the sausage with "extra cartilage" (partly from pig's ears, in case you're wondering).
Amporn is also a great place to buy food souvenirs. There are packaged sausages to go (not sure how well they keep), curry pastes, fried pork rinds,  coffee from Chiang Rai, and more. There are even casings and spice pastes to make your own sausage, though instructions only come in Thai or Japanese.
Amporn Sai Ua Mengrai

www.thaisausage.com
Mengrai Memorial Bridge, next to the Holiday Inn and opposite the  Royal Hospital
Tel. 053-141620, 081-9521756
9am-6pm, closed Wednesdays
Here are some of the other delicious things that made us wish we could stay in Chiang Mai forever.
These little cakes come from the line of snack vendors on Intrawarorot Rd by the Three Kings Monument. Sweet and slightly salty, they're delicious just after they come off the griddle: the interior is warm and meltingly soft, rich with coconut cream.
Huen Phen is one of my favorite restaurants in Chiang Mai, more so at lunch than dinner, though the evening setting, in an old house filled with antiques, is beautiful. I preferred this chili dip to the nam prik ong, a pork with tomatoes dip, that we had on our last visit.
Crisp, salty, porky deliciousness. Yum.
From a wonderful roadside restaurant, on Bunrueang Rit, or what we like to call "West Second Ring". It has a rustic sort of feeling, with big tables, benches, and trees in the middle of the restaurant that emerge through holes in the ceiling. They specialize in grilled chicken, as well as fried snakehead fish, which almost every table orders.
This bamboo salad, paired with grilled chicken from down the street, remains one of my favorite meals in Chiang Mai.
We like to go to this little stand on Ratvithi Rd for their mango sticky rice. The mangoes here are giant and plump and juicy, and the sticky rice has a beautiful, sweet texture. The family running the stand always pours a glass of the coldest, iciest water after you sit down at the small tables in the back. They're located about 200m east of the Three Kings Monument square, across from a high school, and they close around 5pm or so.