We went to Huen Phen twice during our Chiang Mai trip, and each time, the experience was transformative.
Imagine this: it is 38°C in Chiang Mai. The sun is beating down. The wats are shiny. We've been wandering around, looking at things, and getting hotter and sweatier, melting a little more with every step (I may be only speaking for myself here). We have managed to forget that the 7-11s are like mini-Arctics of over-blasted air-conditioning. I become more and more convinced that I am not evolutionarily fit for a post-climate change world.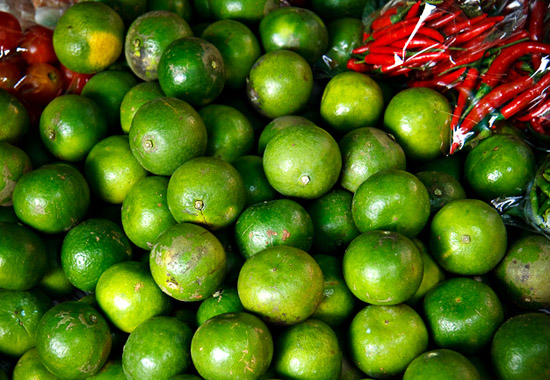 But, lo, Huen Phen appears on the corner. We slink into its cool dark interior, and (hours later) we emerge energized, well-fed, sanity restored. It's essentially like plunging into a pool – if pools were full of amazing northern Thai food.
There's something magical going on here, the strange alchemy of the lunchtime atmosphere. There are counters filled with food and a small army of efficient servers, the chatter of happy eaters, and the myriad dishes of colorful strange delicacies that bedeck every table. There are also fans slowly turning, and the feeling that you could linger for hours, looking at the photos, mementos and knickknacks that line the walls.
The first meal at Huen Phen, we were so mesmerized by the food that all I didn't even think of photographing anything until the end. We had pork laab, a salad of baby eggplants and this jackfruit with spicy paste.
Jackfruits are pale yellow, subtle fruits, with the faint sweetness of banana. Here they were shredded and cooked to pungent perfection with little shrimps and even, I believe, tiny, crisp-fried crabs. Was it anything like jackfruit? No. Was it crunchy at odd times? Yes. But was it spicy and incredibly delicious. Yes! We like approve of spicy paste, and want to put it on everything.
The second meal I remembered my camera. There were the much-loved sausages, as well as a fermented bamboo salad, which was good but pales in spiciness and flavor explosion to the salad man behind the Warorot Market. We had also been intrigued by the grilled eggplant with boiled egg, neatly packaged in perky plastic bags, sold at several street stalls. But having not quite mastered how to eat something so wet and formless out of a bag, we gratefully went for this plated option, smoky and rich, like a spicy, herbal baba ganoush.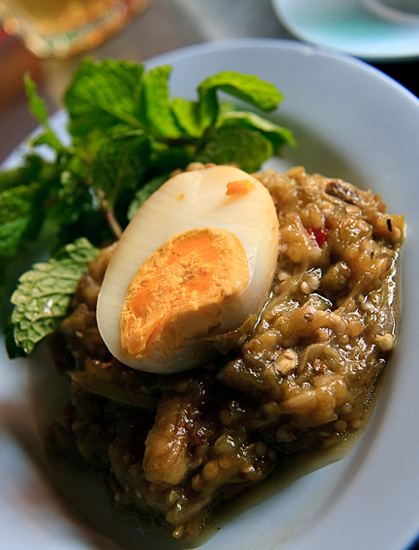 We also had nam prik ong, a classic northern Thai dip of red chilis, pork and tomatoes, served with steamed vegetables and fried pork skins. The dip is sweet from the tomatoes, not at all spicy, and the pork makes it thick and unctuous. I do wonder what that starchy, purple, finger-like tuber is, though?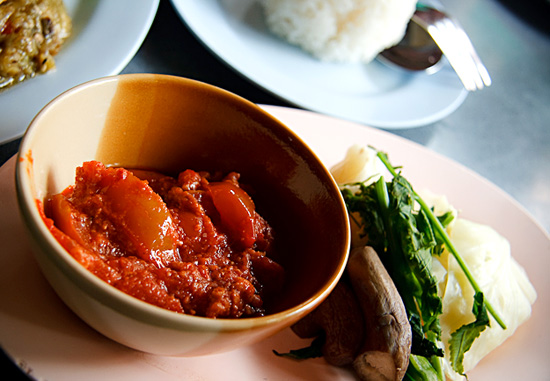 Finally, to further delay the moment of truth that is going outside, there was a tub tim krob, sometimes called "Thai truffles" or "red rubies" in English. They do look like rubies, though they're actually made of water chestnuts, rolled in tapioca flour and dyed with food coloring. Eating these are fun: the tapioca outside prepares you for something glutinous, like mochi, but then comes the refreshing crunch of the water chestnut inside the heart of each ruby. And who could resist iced sweet coconut milk?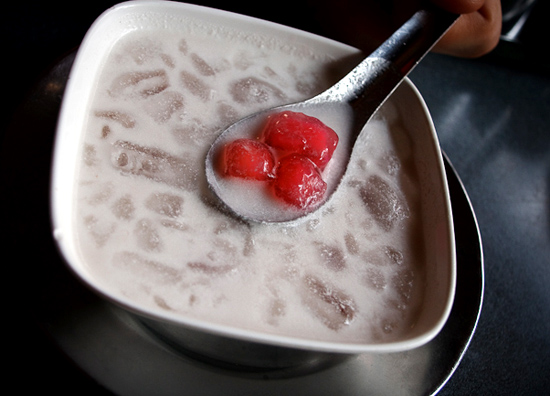 Part of our Huen Phen ritual seems to involve sitting for as long as possible, drinking iced tea while watching parties of diners come and go. Ogling their food and wondering if we should have ordered those fried spare ribs too (yes). Another, better ritual we evolved was to go to Wat Chedi Luang after lunch. It's about as wonderful as an afternoon could be.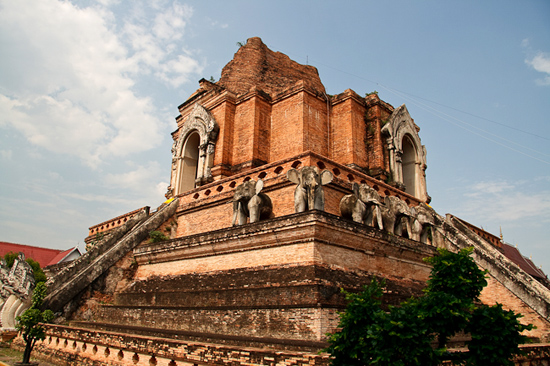 Huen Phen
112 Thanon Rachamankha
Chiang Mai, Thailand