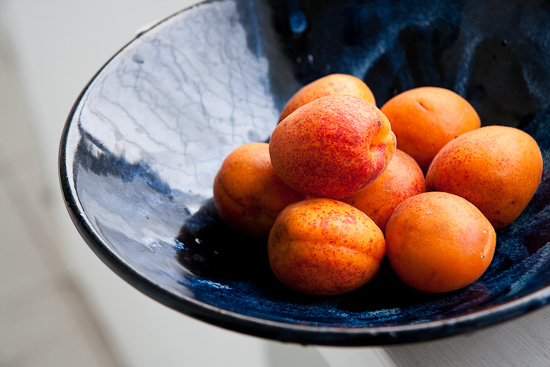 Hawberries & Kumquats is overwhelmed with moving house and will be taking a short break. (The complexity of apartment hunting in Beijing could be an entire blog subject.) In the meantime, here are a few tidbits to mull over, and I'll be back in a week or two.
Apricots, apricots, apricots. I can't get enough of them. They're delicious in jam and tarts, but even more amazing when they're baked, which concentrates the sweetness and tartness. It's incredibly easy, and so forgiving, too, of improvisation: Quarter enough apricots to almost fill a ramekin, and mix in a spoonful of sugar and a dollop of butter. Then top with chopped almonds, and bake at 200°C (400°F) until bubbly and soft, around 15 minutes or so. Foolproof. I bet it'd be good with pistachios too.
Somehow I'd forgotten about the existence of Takenosuke, but such a slight was obviously undeserved. I certainly won't let it slide off my radar again, now that I know you can add mochi to your okonomiyaki. What could be better than chunks of gooey sticky rice in an eggy pancake stuffed with whatever you please? The avocado salad here is also pretty addictive: it uses the kind of creamy salad dressing that I generally abhor, but it goes very well here with bright pearls of fish roe and avocado.
Mint gummy bears. A revelatory discovery when eating a variety pack of Aji Ichiban (優之良品 youzhi liangpin) gummy candies (purchased from 7-11). The translucent green bears didn't ooze the expected composite fruit flavor, but packed a distinctively minty punch that instantly woke me up from afternoon lethargy. Think of it as a mildly chewy mint. Did you know that gummy bears were invented in Germany? They're called Gummibären.
The Village Cafe has a great lunch set at RMB 48 for one course, 68 for two, and 88 for three. The Opposite House is always a pleasure to visit, for its clean, soaring architecture. I never get tired of admiring the lobby, and there's rotating displays of art as well. This time there were silvery over-sized insects – at once menacing, fragile, and jewel-like. As for the food, the menu changes but the white chocolate cheesecake seems to be a stand-by, and a well-deserved one at that.  And I loved the macadamia nut-encrusted sea bream – the crumbly nuts are a delightful contrast with the tender, flaky fish.
More on mochi, obviously a favorite theme here: Shinyeh has the most delicious peanut-dusted mochi I've had in Beijing. Firm, soft, chewy, and tender all at once, this is mochi heaven. It's a wonder I haven't come back yet for them. They also do a variety of other Taiwanese street favorites and snacks, as well as fancier dishes.
The peaches are here: Beijing peaches are some of the most delicious in the world. Granted, I grew up eating them, so I may be a bit biased. They seem to have so much more, so much more real peach flavor, than a supermarket peach in the US – which I also grew up eating. Beijing peaches are just so  properly seasonal, around only for the magic months of July and August. My favorite kind is the Jiubao (九宝), exceptionally soft and oozing with juice.