This colorful salad caught my eye when I was wandering through the small food court above the Niujie Halal Supermarket, in the Hui Muslim neighborhood. From among the bevy of cold dishes and salads, its bright tangle of shredded purple cabbage, watermelon radish, carrots, and cucumbers was particularly inviting and lively. In a thrice the salad was ordered to instantly improve the nutrition of my late lunch, which had hitherto consisted of some too-salty beef shaomai dumplings (牛肉烧麦) and glutinous rice steamed with dates (甑糕 zenggao), both also purchased from the halal supermarket.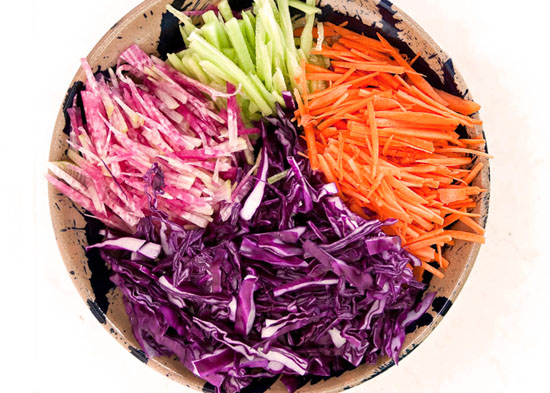 Later I found myself craving this salad again, and it was as easy to throw together as it is versatile. Unlike a typical cabbage slaw that's thick with mayonnaise, it's light, crunchy, and refreshing – just the sort of thing for a summer lunch. It also adds a fun variation to zhajiang mian (炸酱面), Beijing's famous mixed noodle dish that's usually tossed together with fresh slivers of cucumbers, watermelon radishes, and boiled soy beans, as well as a dark bean sauce.
On a side note, watermelon radishes are particularly associated with Beijing: they're as cheap as chips here, and mostly found in humbler Beijing restaurants, where they generally take the form of a tangcu xinlimei (糖醋心里美), slices of radish in a sugar-and-vinegar dressing. If you're really feeling economical, you can get a salad of just the tough outer green skin (萝卜皮).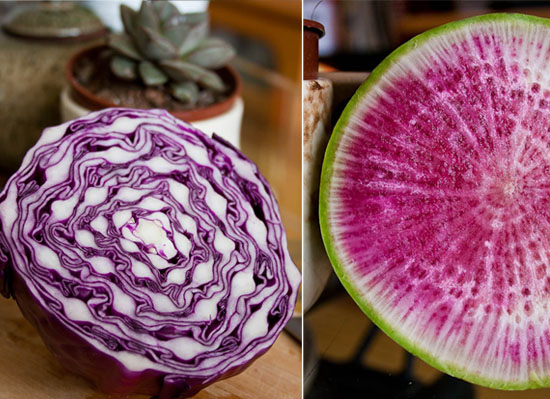 In Chinese, the watermelon radish is called 心里美 xinlimei, "beautiful on the inside" or "beautiful in the heart," for the vibrant magenta heart that lies concealed within the tough green skin. Isn't that a lovely, evocative name?
Recipe: Purple cabbage and watermelon radish

This is utterly flexible: I like to start with a base of purple cabbage (half a head), watermelon radish, carrot (two if they're small), and a cucumber or two, which makes a very large bowl of salad good for four or five people. Then you can augment it with a bit of scallion, onions, cilantro, or rice noodles (cook them for a few minutes, then run them through cold water, as you would pasta). All the vegetables get cut into thin slivers and mixed up in a large bowl with the dressing, which is about 1 part olive oil to 1 part vinegar, along with mustard, salt, honey, lemon juice, herbs, or whatever whimsy calls for today.

I like to let the whole thing then sit in the fridge for a few hours or overnight so as to mellow and soften the cabbage, and infuse everything with flavor, but this isn't really necessary. A handful of juicy, plump Xinjiang raisins at the end never goes wrong.