What happens when we watch nothing but Bollywood movies week after week? Strong intermittent cravings for all things India, including, of course, Indian food. That's when a trip to Tamarind is called for (it's a little more convenient than Delhi).
Tamarind is a bit unusual for me – it's located in the Beijing Marriott Northeast Hotel, outside of Sanyuan Qiao – not my regular haunt! But it's worth braving the staid hotel decor (plastic palm trees in the lobby!) and sterile hotel atmosphere for Tamarind, which I made my expert pick for Best Indian in theBeijinger's restaurant awards this year.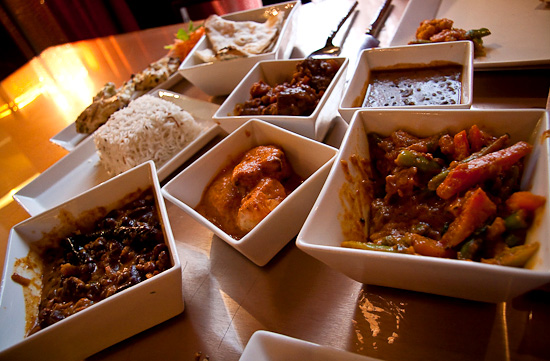 The head chef, Mangilal Kurly, is from India and previously worked at the Marriott in Mumbai.  The flavors here are vibrant, complex and rich, and the dishes are well-executed, not greasy. Though the menu is (somewhat mercifully) short, there are dishes here that you won't find elsewhere. And the lunch thali platters (RMB 68-98), available every day of the week, are a great way to try a variety of things, with four dishes, rice and naan.
One of the first things you notice at Tamarind is the open-air kitchen, with four tandoori ovens and platters of spices, and indeed, the tandoori items are amazing. The murgh malai, chicken marinated in cream cheese and green peppers, is tender, moist and creamy. Though generally I never eat chicken, I couldn't resist the two succulent pieces that came with the non-vegetarian thali platter (RMB 88).
The thali also contained kade masale ka gosht, chunks of tender lamb cooked in spices, and butter chicken in tomato sauce, which stood out the least. Compared to all the complex Indian dishes one could eat, butter chicken just seems to be a rather bland crowdpleaser. My favorite thali item, after the murgh malai, was the obligatory dal: this time, dal makhai, black lentils in a spicy tomato sauce.
We also ordered two dishes off the menu, which ended up giving us enough food for another meal – portions are surprisingly generous for a hotel restaurant. The subz handi (RMB 48), carrots, peas, and cauliflower in a cashew nut sauce, was creamy, with a surprising little peppery kick lingering after each bite. But the undoubted favorite was the rajma masala (RMB 38), kidney beans in a complex, spicy tomato puree. It went well with rice, and was even better the next day.
My one complaint about Tamarind is that we asked for the dishes that contained chilli peppers to be made extra spicy, but this seemed to have been ignored. Or maybe my senses have dulled after a trip to Thailand? But just look at all these peppers waiting to be used!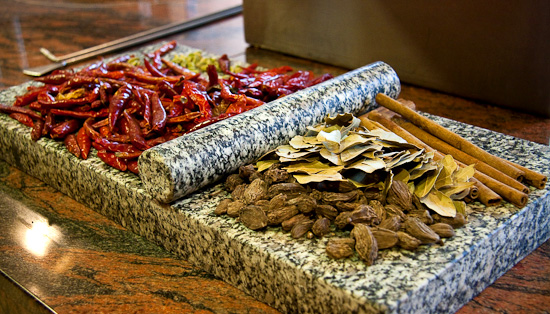 Considering that Tamarind is in a hotel, it's prices are rather reasonable and in the range of other Indian restaurants in Beijing, which are uniformly on the pricey side. (There is a 15% service charge, however.) As long as you don't go for the lobster or shrimp, most things fall between RMB 38 to 88.
Incidentally, the Chinese name of Tamarind is 梵天 (fantian), which means Brahma, one of the three major gods of Hindu. But I suspect this is not as widely known; as the character 梵 also means relating to Buddhism, most people would interpret it as Buddhist skies or Buddhist heaven. I suppose the Chinese for tamarind, 酸角 (suanjiao), just didn't sound fancy enough? Meet you at "sour corner" next time the craving strikes.
Tamarind
[
map
]
2/F, Beijing Marriott Hotel Northeast
26A Xiaoyun Lu (outside of Sanyuan Qiao)
Chaoyang District
梵天
朝阳区霄云路甲26号
北京海航大厦万豪酒店