This is not quite a list, as I seem to have missed the season of lists, but rather a brief look at some of the most delicious things I encountered last year. It's also far from complete or definitive – perhaps a more accurate description would be "delicious things I ate last year that I am craving right now."
Walnut rustique at Pekotan Deli. This Japanese bakery/deli makes some of the best bread in Beijing, a fact which should be no surprise to anyone who knows the dedication of bakers in Japan. Their baguettes have a shatteringly crisp golden shell, a beautiful, open crumb, and a wonderful wheaty flavor. The walnut rustique are cute little twists, fragrant with walnuts and perhaps also olive oil? I almost always scoop up the second-to-last almond croissants, too.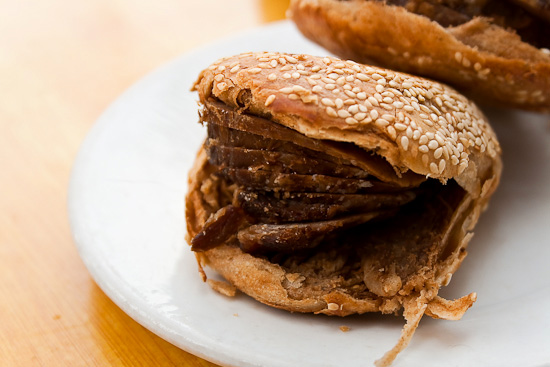 Shaobing with braised beef (牛肉烧饼 niurou shaobing) at Long Xing Sheng (隆兴盛). These are baked sesame buns (shaobing) worth queueing for, even in the depth of winter. Owally first discovered this place, and soon I was addicted as well. The shaobing have a sesame-studded crispy shell, a warm, multi-layered interior, and are especially delightful when just out of the oven. Add in generous slices of the tender halal, braised beef (酱牛肉 jiang niurou), and this is about as wonderful a sandwich as you could have in Beijing, and for only RMB 4, too.  Take that, expensive expat burgers!
Hot pot at Jubaoyuan (聚宝源). My only regret about Jubaoyuan is that I do not visit nearly enough. In fact I don't go to anywhere in Niu Jie (牛街,Beijing's Hui Muslim neighborhood) as often as I should, but especially not at the dinner hour. The lamb here is fresh and flavorful, the hot pots are bronze, and the yipin shaobing (一品烧饼) are pan-fried just before serving to a golden crisp. Is there anything better on a warm winter's night?
Niangao from Bai Ji Niangao (白记年糕), in Niu Jie. This pretty much has its honored place on my lifetime most-delicious things list. I've said a lot about it in the past; you can read all about it here. I also love their yuanxiao (元宵) – real honest-to-goodness Beijing-style yuanxiao, which are made by rolling like a snowball in a basket of rice flour, not from a dough wrapped around a filling, like tangyuan.Bai Ji only makes yuanxiao from the few weeks before the Spring Festival (Chinese New Year) to Yuanxiao Jie (1st lunar month, 15th day), so they should be starting any day now!
Dill-encrusted codfish, over a bed of wild rice, at Modo. This may just be my favorite restaurant that opened in 2010. I love not being confined to the appetizer-main-dessert here, and ordering any combination of savory and sweet small plates for sharing. Everything  we tried was creative and fresh, including a crispy potato and grilled octopus salad and a revelatory white chocolate mousse with blackcurrant sorbet (and usually I don't even like white chocolate). But the tender, richly flavored cod stole the show.
Shaved ice, Din Tai Fung. Everyone raves about the stuffed buns at Din Tai Fung, but the desserts at this Taiwanese chain are equally fine. Their shaved ices have the texture of fresh-fallen snow, feathery soft with the barest hint of crunch. I can never decide between the cool, jelly-like almond tofu (杏仁豆腐) served over milk-infused ice or the combination ice (综合刨冰) with its chewy taro mochi balls, among the best I've ever had. I'm eagerly awaiting the end of winter.
Smoked bamboo, at Poyanghu. Most bamboo dishes in Beijing don't compare in flavor to the fresh bamboo in southern China, but this smoked bamboo is an  exception (probably because it's been preserved!). It's savory and earthy, and it doesn't hurt that it's been cooked with la rou (streaky pork 腊肉) either.
Finally, here are a few of my favorite things that I made in 2010: pumpkin brioche buns, apricot tart, pumpkin mochi balls, tart lemon tart using Meyer lemons, and of course, the one that started it all, hawberry & kumquat tart. I should also mention G's cooking, especially his multi-bean stews, chili, and stuffing, which have powered us through the winter wonderfully well so far. Now here's to a new year of exploring Beijing's restaurants and specialties, baking, and hopefully far more visits to Niu Jie!