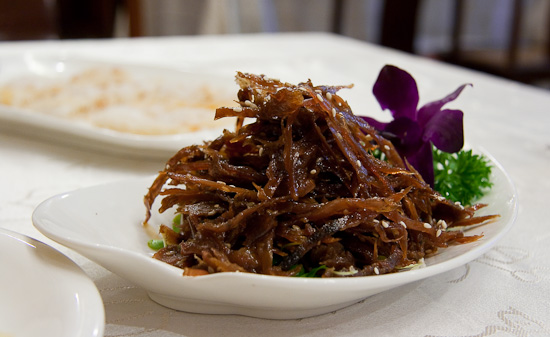 Most foreigners in Beijing might think of another salt-themed restaurant, but the Salt Merchants restaurant, by the Purple Bamboo Park, is the only one for me. I could happily go to Jinfu Yanbang (锦府盐帮) anytime for its unique and utterly delicious Zigong cuisine, which you might think of as a regional variation within the varied and diverse cuisines of Sichuan.
Don't underestimate the power of trade on food: The salt mines of Zigong, in southeastern Sichuan, became a hub of economic and cultural wealth more than 500 years ago. As it prospered, the city attracted merchants, investors and laborers from Yunnan Guizhou, Shanxi, Shaanxi, Guangdong, Jiangxi and more. The result was a distinctive fusion cuisine, refined, spicy and subtle. Perhaps that's why I like Zigong cuisine so much – it combines some of my favorite foods and flavors from around China.
As might not be surprising for a place devoted to salt mining, Zigong food is big on flavors and seasonings. On a most recent visit, we limited ourselves to ordering mostly cold dishes, due to the smothering hot weather. Here's what we tried, though it by no means does all of Jinfu Yanbang justice.