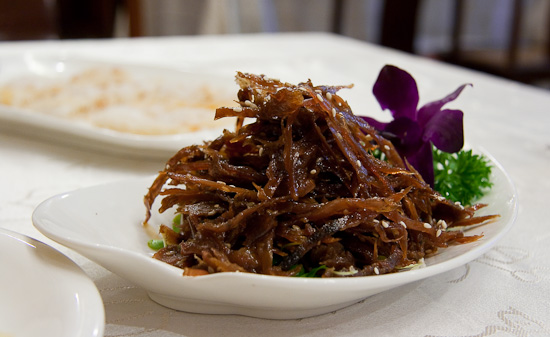 Most foreigners in Beijing might think of another salt-themed restaurant, but the Salt Merchants restaurant, by the Purple Bamboo Park, is the only one for me. I could happily go to Jinfu Yanbang (锦府盐帮) anytime for its unique and utterly delicious Zigong cuisine, which you might think of as a regional variation within the varied and diverse cuisines of Sichuan.
Don't underestimate the power of trade on food: The salt mines of Zigong, in southeastern Sichuan, became a hub of economic and cultural wealth more than 500 years ago. As it prospered, the city attracted merchants, investors and laborers from Yunnan Guizhou, Shanxi, Shaanxi, Guangdong, Jiangxi and more. The result was a distinctive fusion cuisine, refined, spicy and subtle. Perhaps that's why I like Zigong cuisine so much – it combines some of my favorite foods and flavors from around China.
As might not be surprising for a place devoted to salt mining, Zigong food is big on flavors and seasonings. On a most recent visit, we limited ourselves to ordering mostly cold dishes, due to the smothering hot weather. Here's what we tried, though it by no means does all of Jinfu Yanbang justice.
Smoked shredded beef (火边子牛肉 huobianzi niurou) RMB 38
This Zigong specialty evolved as a way to preserve beef (the city was home to quite a lot of cattle, mostly to do the heavy work of salt mining). Beef round is sliced very thin, rubbed with salt and a little soy sauce, and wind-dried. Then, the slices are stretched out over a woven bamboo lattice and slowly baked and smoked  over a low flame (apparently, you get the best fragrance when the flame is powered by cow patties), until the thin sheets of meat are red-gold, glossy and translucent. Jinfu Yanbang serves the beef in fine, golden shreds, drizzled with a little chilli oil over a bed of sprouts (pictured above).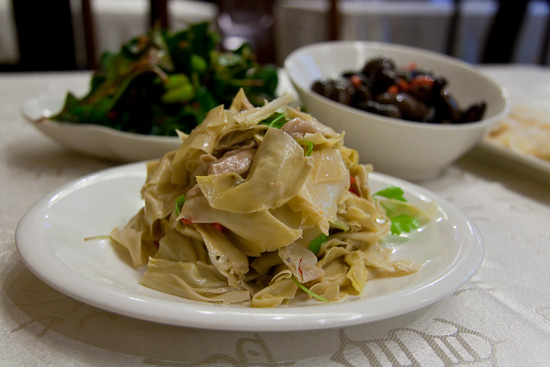 Wild mountain bamboo (山野竹笋衣 shanye zhusunyi) RMB 36
Thin layers of bamboo, tossed with mushroms. Simple, not spicy, refreshing on a hot summer's day, with a great texture from the bamboo.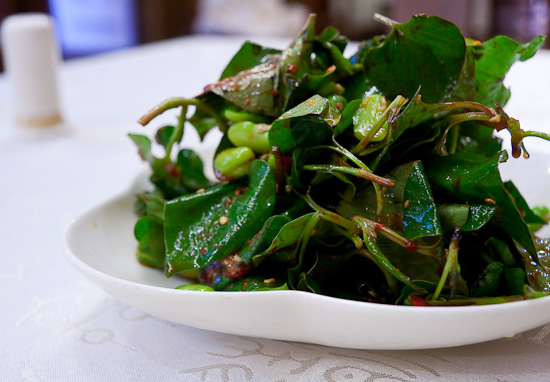 Zhe'ergen leaves with fava beans (折耳根拌蚕豆 zhe'ergen ban chandou) RMB 22
This was one of our favorite dishes: the herbal zhe'ergen leaves pairs well with the sweet, vinegary dressing that sneaks in a final, spicy punch. We have long been familiar with the pale white roots of the zhe'ergen plant, also known as the "fish stink grass" (鱼腥草 yuxing cao), popularly eaten in vinegary salads in Guizhou. They're quite pungent and an acquired taste at best – albeit one that can help protect you from SARS – but to our surprise, its leaves are far more appealing.  These dark green leaves have only a hint of the plant's namesake fishy odor, muted to a clean, herbal scent. They're also much more palatable in texture, having none of the hard, woodsiness of the roots.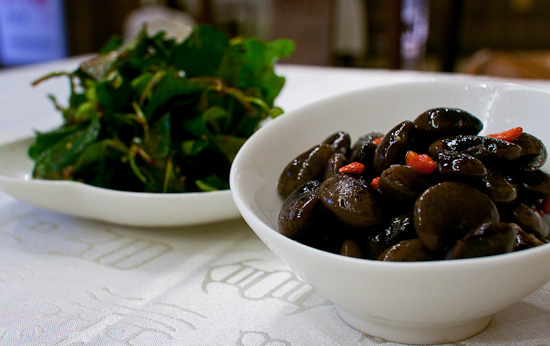 Rice wine-marinated beans (米酒酿岩豆 mijiu niang yandou) RMB 18
I have a soft spot for large legumes. These big beans, marinated in rice wine and goji berries, have a sweet and refreshing flavor. They're an excellent respite from spice and salt, but I would skip this dish if we were only ordering one or two cold dishes and not a whole smorgasbord.
Spring bamboo pickled with chilli peppers (泡椒春笋 paojiao chunsun) RMB 28
I like bamboo so much that I'd happily order it twice in one meal. Despite the name, this is not that spicy: Like the best of Zigong dishes, it brings together several flavors – it's sour, sweet and spicy all at once, with a fresh crunch from the bamboo shoots. Much more exciting than a pickled cucumber.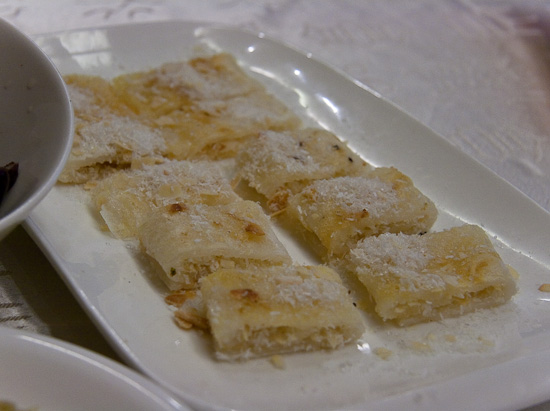 Almond-stuffed crepes (杏仁薄饼 xingren baobing) RMB 26
What's this, a crepe? Have we switched cuisines? This was the meal's only nod to hot food, chosen from the menu's tantalizing back-page array of bing (flatbreads), rice cakes, dumplings and pastries. Dusted with powdered sugar, this sweet bing filled with crunchy almonds was a surprising but immensely satisfying end to our meal.
Jinfu Yanbang is located in Haidian district, just north of Purple Bamboo Park. It's about 300 meters north of the National Library stop on Line 4, inside of a compound on the west side of Zhongguancun Dajie. Though the compound may look rather ordinary, the restaurant is beautiful inside, decorated with fish ponds and wooden furniture and flooring. Even the traditional outfits of the staff is a notch above the usual
fuwuyuan
outfits.
Jinfu Yanbang [map]
31 Zhongguancun Nandajie
(north of the National Library stop, across the street from the Hubei Hotel)
Haidian District
010-68196222  68196773
Reservations recommended for dinner
锦府盐帮
海淀区中关村南大街31号空间技术研究院院内(湖北大厦对面)